Jaguar XK (1996 - 2006)
reviewed by Anonymous on 17 May 2019
reviewed by Anonymous on 24 April 2019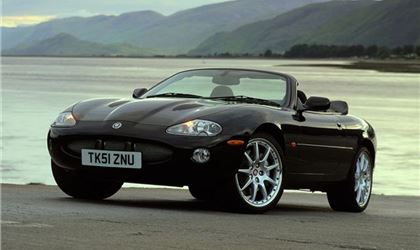 XK8 Convertible
reviewed by alanincornwall on 23 December 2011
3
Cost of maintenance and repairs
4
Experience at the garage or specialist
4
How you rate the manufacturer
Extravagant, sumptuous, a real grand tourer which still turns heads - but also an expensive luxury.
We call it our SKI car (spending kids' inheritance). In 6 years of owning it I have covered some 45k miles on all typrs of roads in UK and Europe. It's at it's best cruising on fast roads, eating the miles and showing just what motoring should be about.
Reliability has been generally good - only once has it given a problem starting and that was probably down to my heavy right foot flooding the system. maintenance costs have always been quite heavy - a routine service at a Jag specialist (never a main dealer) is still around £300.
With mileage now hovering at 70k there is more to be done more often including a gearbox re-build in early 2011. That came in at just over £2k at a specialist auto-gearbox workshop. Superb job and saved me near £2k on the price originally quoted by the Jag specialist.
Whilst well looked after the car is not mollycoddled - it spent almost a year living outdoors through winter snow and all. Appearance is still really good but some of the external trim has been touched up to eliminate some bubbling of the original finish.
Have had no issues with the engine which runs really well and under pressure that distinctive V8 growl is just wonderful.
Economy is a misnomer - it has a fuel suction system which sucks around 1 gallon for every 21 - 22 miles. On a decent run at steady 80 - 90 that will become 25 mpg and on one memorable occasion it returned 28 mpg over 200 miles at avge 70mph.
But if you can put up with the costs this is a car to give enormous buzz and make you feel like a millionaire.
Write your review
Just reviewed...