Alfa Romeo Alfetta, GT, GTV and GTV6 (1972 - 1984)
reviewed by Anonymous on 23 June 2021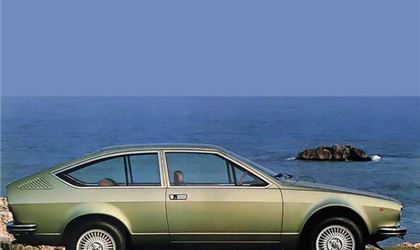 Alfa Romeo Alfetta GTV 2.0
reviewed by paulwoj on 27 February 2014
3
Cost of maintenance and repairs
5
Experience at the garage or specialist
4
How you rate the manufacturer
One of the best driver's cars ever
I am in my late 50s and semi retired. I decided a few years ago to own, for a year at a time, every car that I had wanted as a teenager/young man. So through my hands over the past few years have been a Rover P6 3500S, a Range Rover Classic, a Volvo 240, and an MGB. My three on the all time wish list were a Triumph Vitesse, Mark 1 Ford Capri 3.0, and an Alfa GTV.

I obtained the latter by swapping the MGB for it with a bloke I met at Newport Pagnell services, and the car has stopped me in my tracks. I can't see myself parting with it.

For a start the car looks like it is going quickly when it is parked on the drive. It is absolutely beautiful and so in proportion. Inside is typically Italian. The driving position is best suited to a gorilla, but you get used to is. Seats are comfortable and oh so eighties. The instruments are clear, with the quirky positioning of the rev counter rather than the speedo directly in front of the driver being a nice touch.

Fire it up, and the sound from the twin cam 2.0 engine is glorious. It burbles away on tick over, but growls under acceleration. The car doesn't accelerate particularly quickly. 0-60 was only just under 10 seconds, but mid range acceleration and long distance cruising are the GTV's forte. Roadholding is brilliant. The car has a transaxle gearbox, so weight distribution is almost 50-50. You can throw it around corners if you need to.

Like all Italian cars of the time, the body work is the weak point, needing constant scrutiny and regular attention. Back in the early eighties I owned a six month old Lancia which had holes in the front wings..... Imagine that with any new car now?

The upshot is my quest for the next car on my bucket list is on indefinite hold. I may get bored with the GTV eventually. But not just yet......
Write your review
About this car
| | |
| --- | --- |
| Top speed | 115–130 mph |
| 0-60 | 7.5–9.5 s |
| Power | 122–160 bhp |
Just reviewed...