Alfa Romeo Alfa 75 (1985 - 1992)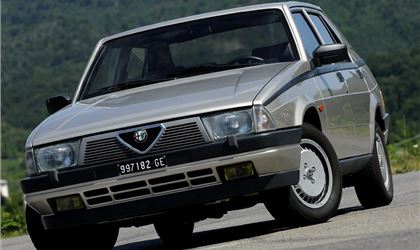 3.0 QV
reviewed by alanet on 4 January 2011
3
Cost of maintenance and repairs
4
How you rate the manufacturer
An unknown classic
I've owned dozens of cars, but this one sticks to me like glue.

The 3.0 V6 and good RWD chassis make you feel as if you're driving a thoroughbred italian classic. Of course, it's only a boxy saloon with an interior made of what seems like cardboard, but this does allow you to drive around unnoticed.

These cars do not rust any more than other contemporary saloons. Rustproofing was improved after '88 or so. They are also pretty reliable and long lasting apart from the interior and electrics maybe.

Most have been really well used by now and will have all the problems that a 20/25 year old everyday car can have. With their transaxle and inboard rear brakes they aren't the easiest cars for the home enthusiast to work on either. Only for the true alfisti, then.
Write your review
About this car
| | |
| --- | --- |
| Top speed | 125–135 mph |
| 0-60 | 7.5–9.0 s |
| Power | 143–187 bhp |
Just reviewed...