Alfa Romeo 166 (1998 - 2005)
reviewed by Racheal Whitehead on 18 April 2020
reviewed by Anonymous on 8 November 2011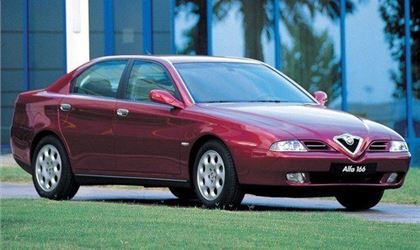 2.0TS Lusso
reviewed by Boulder2k9 on 15 January 2011
3
Cost of maintenance and repairs
4
Experience at the garage or specialist
4
How you rate the manufacturer
A true Alfa Romeo
This is really a true Alfa. The way it drives and makes you feel is next to nothing I have ever driven or owned. I owned it for six years and 83000 miles. This was the facelift Alfa in Black.

Good points: A superb engine never had any trouble with the engine at all. Excellent leather seats, mind blowingly good looks and full of character. Still on the original clutch etc.Incredible refinement on the motorway. Extremely high list of standard equipment too.

Bad Points:Very heavy on tyres,oil and fuel consumption wasnt great(25mpg around town). The climate control was poor. The car really doesnt take weight well very soft suspension but makes for a super-comfortable ride. Optional sunroof leaked during 2008 due to rubber seal disintegrating.

In conclusion it was a true joy to own and run for the 6years that I had it. The reliability really suprised me it was very good. The car was super comfortable and the 2 litre has enough poke for most people. It was heavy on fuel oil and tyres though.
Write your review
Just reviewed...