Alfa Romeo 145 and 146 (1994 - 2001)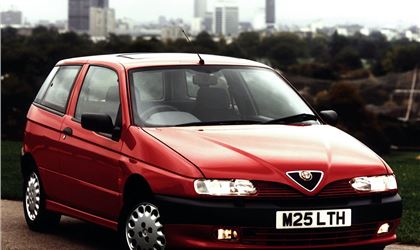 1.4 petrol BOXER
reviewed by F. Hope on 5 May 2015
3
Cost of maintenance and repairs
3
Experience at the garage or specialist
5
How you rate the manufacturer
A great driving experience
This is a car for those who love cult cars: My model had the legendary Boxer engine made by Alfa Romeo (not FIAT) which surged around town and on the motorway. It was worth buying for its engine alone.
I clocked up 190,000 miles around Europe with no breakdowns or serious car trouble at all. I did replace the radiator towards the end of my ownership because of incipient cooling problems and whilst the car has a lot of torque, its performance in the Alps was less impressive on steep slopes - it simply struggled due to poor gear ratios.
But it was a veritable panzer on city roads. It had huge, heavy duty, front and rear bumpers - great for passenger safety - and a remarkably thick paintwork. Even if the vehicle hadn't been cleaned that week, the car was shiny, fire-apple, racing red all its days.
The steering was very responsive (a joy to drive), and the suspension absorbed the bumps well. Long-distance journeys were no problem.
The interior was poor-quality. In contrast to the bodywork and mechanics, the upholstery began to look really tired after 10 years and this ultimately led me to get rid of it.
My version was a 2-door model which gave me piece-of-mind with pre-school children in the back, but started to be a nuisance when I had to shepherd kids to after-school activities later on in life.
To sum up, it was a great Italian car, made fun to drive by its glorious engine. My next purchase was a VW which was quieter, more refined, but lacked the soul of the Alfa Romeo 145.
reviewed by TVman on 12 February 2014
Write your review
Just reviewed...