Volvo V70/S70 (1996 - 2000)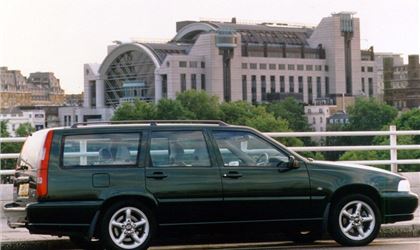 1999 V70 T5
reviewed by Peter Hollander on 3 August 2017
3
Cost of maintenance and repairs
5
Experience at the garage or specialist
4
How you rate the manufacturer
Lovely smooth Motorway cruiser for holidays and everyday use - like trips to the dump with garden waste!
This car was in a bit of a sad state mechanically (brilliant body) when I got it, with 96,000 miles in need of new brakes, air con compressor, steering arms/drop link and a fix for the electronic throttle module to get it to stop hunting on idle. It's now got 154,000 miles and has been on thousands of miles round trips to Spain, Italy, Austria, France, Germany without any trouble. For four adults on holiday it has been wonderful with cruise control, air con and a full load it just wafts along. It sails up Alpine passes, has never overheated (though the electric fan has gone on blowing full blast for 10 minutes at the top of a mountain pass when we stopped to look at the view... destroying the peace and quiet!) and with winter tyres it behaves on snow and ice as if it were just a summer's rainy day.

The turbo charged engine still does 0-60 in 7 or 8 seconds and you need to put your foot right down in Italy as the slip roads onto the motorways are barely 50-60 yards in a lot of places. It does 130mph (210kph) with more to go on the autobahn (but rattles and does 7-8 mpg so we haven't done that very much), and a steady 75mph (120kph) gives 30-31 mpg, and a steady 65 mph 32-33 mpg. Overall in the UK without much motorway driving 25-27 mpg, less in the winter.

As an old car it does burn oil, even though I've had the turbo seals renewed. The air con needs re charging every two years. With Volvo dealer services comes free roadside rescue including whole of Europe (not that it's been needed) and most roadside rescue operators won't do 18 year old cars or at a cost of more than the car's worth! So the extra cost of a main dealer is compensated by hundreds of pounds worth of european cover thrown in and as they have always done a good job, that confidence is well earned.

I've had a few Volvos before (245 Estate, 765 Turbo Estate and Wentworth 740 estate) and this one is the best in terms of comfort and performance and reliability. There is one niggle the ECM module is old and Volvo don't service or make them any more, so as a drive by wire car, when the computer packs up, it won't be cheap to have it repaired, and then a decision needs to be made - is it worth it as that will cost more than the car's worth.
Write your review
Just reviewed...