Vauxhall Calibra (1989 - 1998)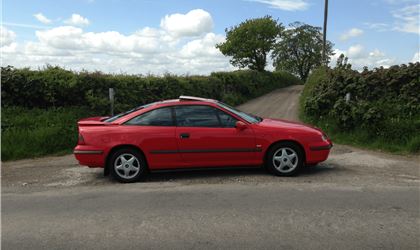 'Tickford' Calibra
reviewed by D. Stowe on 4 February 2019
5
Cost of maintenance and repairs
4
Experience at the garage or specialist
4
How you rate the manufacturer
Simply the best car i have owned
A car is designed with the technology available at that given point. This car was first thought about in 1986 and was completed by mid 1989, so at the time of writing the initial idea is between 30-33 years old. Head of design at Opel Wayne Cherry, was always about aerodynamics right from his early days in the USA. He came to Vauxhall England where he did some very good work like the droop-snoot design along with some great concept cars etc. Promoted to Opel it was his initial idea that the time was just right to introduce a new affordable Coupe as most Japanese/European coupe's were very expensive, with the emphasis on getting it as streamlined as possible (mainly because of world recession and fuel prices) . He managed to convinced the head at GM and it was Erhard Schnell's design that was favoured amongst all the other teams.
"It's a Cavalier in a party frock" many will say.....all coupe's especially in the price banding it was designed for, is based on other production models due to costs. At least the external panels were all different on the Calibra, unlike most that just took their saloon car and made it a three door with a rear hatch. The only Cavalier exterior similarities was the side repeaters and door handles. Great mechanicals which were tried and tested thanks to the Astra and Cavalier Mk3, but with added standard features such ABS all wheel disc brakes with independent gas (not oil, except early 8v's) suspension. Most have criticised the Calibra based on the Cavalier handling, yet with these differences along with having a lower centre of gravity it was only the Cavalier Gsi and Turbo it should be compared to.
I have owned many a make of car over my 40 plus years of driving, Escorts, Capri, Granada, Cougar, Volvo's, Toyota, Rovers etc etc, yet the Calibra has always been the best from them all since i was fortunate to own a Redtop back in 1993. Running costs, reliability, practicality all have played a part in my life and the Calibra has won hands down. Each other make of my cars may have offered something better like handling, comfort etc, but overall the Calibra's faults is but a little sacrifice and always went back to the car that best suited my particular needs, which has dependability, reliability, power, space and to be honest regardless of it's aerodynamics....looks! which is what most tend to go by who own coupes.
I now own three, one was retired from everyday use to fine weather driving two years ago, due to it's rarity mainly. One is being totally restored and my SE3 model which is a daily. Having owned all the engine variants now, i have settled for the early 8v's for its so so reliable low down torque delivery and ease of maintenance and the redtop as these suit my needs and pocket, not forgetting the adjustable steering on the earlier models. The Ecotec X20XE 2.0 is a good engine regardless of the slight power downgrade from the redtop. The V6 is great for added comfort and smooth motorway driving and the C20LET Turbo 4x4 for the sheer power delivery and obvious better corner stability, all be it having the transfer box issues, mainly due to extra tuning output, lowering suspension incorrectly or lack of maintenance. As time progresses more and more are being stripped for spares, especially the early models as these tend to rot more (the later having better under protection). They were and still are favoured for engine up-grades for not just for the Corsa/Nova brigade, but for all manor of other makes of cars. This has left the pre 'V' grill (pre 1994) cars with alarmingly few in number now. The DVLA records of taxed and SORN are out of date, as these are between 3 and 6 months old. The SORN especially, as many did not take it off from being so on transfer (used to be renewed every year but not since 2009) and personally know of many that are still registered yet were broken many years past.
A good underestimated coupe that still can run rings around Coupe's that even came out 10 years after. It revolutionised the market and made the completion sit up and take real notice. Not many can recall the initial impact this car had and was even said that once in every 10 years a car makes the motoring world really excited........the Calibra was such a car. It's not the best coupe ever made for speed/power, handling, interior design etc. But after a day or two driving one i think most would come to like and understand what the Calibra's all about and with over 20 different models and variety of colours, engines etc, there is one for most that suits.
reviewed by Anonymous on 4 February 2019
reviewed by Anonymous on 4 February 2019
Write your review
Just reviewed...