TVR S1-S3 (1986 - 1994)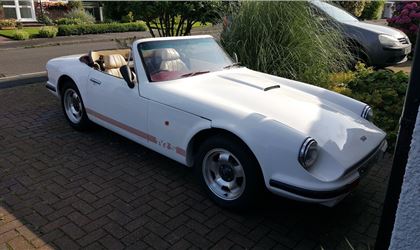 TVR S1 (280s)
reviewed by RickH on 21 October 2019
5
Cost of maintenance and repairs
4
How you rate the manufacturer
Easy to work on, easy to live with
I bought my 'barn find' knowing it needed work. Initially I planned to treat the surface rust on the chassis and run it about a bit, replacing my MG Midget as a fair weather toy.

I started the work and realised that in order to do the job right I needed to remove the body. This ended up in a total strip down, and over the period of a year I had the chassis professionally blasted and painted, rebuilt the engine and gearbox (Ford Capri and Type 9 5 speed), cleaned and painted the suspension (Ford Sierra) and reassembled using all new nuts, bolts washers, braking system and partial rewire.

None of the work was difficult and all was done either on my driveway, using scaffolding and block and tackle to remove the body, or in my single garage. I made several modern upgrades including adjustable suspension units, rose jointed drop links, polyurethane bushes and an up-rated cooling system using all new components and a Subaru WRX alloy radiator and high flow fan.

The result is a car that runs on unleaded, maintains temperature, handles and drives the way a sports car should and has actually provided a return on investment as none of the parts were expensive (e.g. front discs and pads, £35.00 delivered, including VAT).

Home mechanical work is not possible or practical on modern cars, on this TVR it is almost trivial. A joy to own.
reviewed by HSSV6 on 31 March 2014
Write your review
About this car
| | |
| --- | --- |
| Top speed | 130 mph |
| 0-60 | 7.5 s |
| Power | 160 bhp |
Just reviewed...