TVR 3000S (1978 - 1979)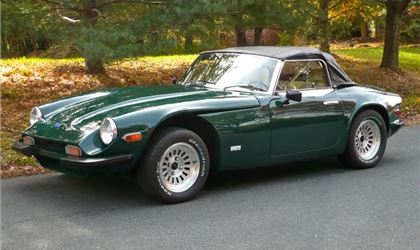 3000S
reviewed by SquashedCat on 19 February 2016
2
Cost of maintenance and repairs
5
Experience at the garage or specialist
5
How you rate the manufacturer
A very fast cat that handles like its claws are on velcro.
The car came rally modified, one of the original 49 US legal LHD cars, 250HP Essex V6, Triple Weber 40 DCNF intake, direct ignition, race headers, upgraded radiator, suspension, racing clutch and limited slip rear transaxle, wider front and rear T Slot wheels and tyres, double width roll bar attached to frame.

The car is fast, handles very well on well paved roads. Very low ground clearance, so potholes, manholes, rail crossings are dangerous for the oil sump and exhaust system. The car has very long legs with the 4sp gear box, approximate top speed is around the 140 to 150 mph. I have not had it on a race track to see actual top speed. Motorway roads are not very well maintained in my state, so speeds above 100mph are seriously dangerous due to actual pavement conditions, frost shatter, buckled pavement, potholes. The car is light, so when these sorts of road hazards manifest themselves, the car becomes airborne, and loss of steering temporarily at higher speeds. The engine is very reliable and still gets around 18 mpg (US) even with the triple weber setup, unless my foot is in the firewall.

This is a car that is so fun to drive, they can bury me in it when I die.
Write your review
About this car
| | |
| --- | --- |
| Top speed | 120 mph |
| 0-60 | 7.5 s |
| Power | 142 bhp |
Just reviewed...