Triumph Stag (1970 - 1977)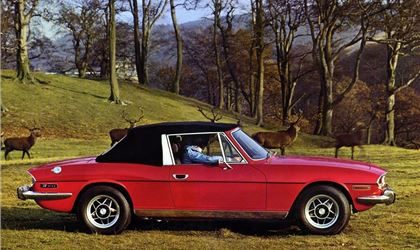 MK1.5 Auto
reviewed by JANDK on 30 November 2013
3
Cost of maintenance and repairs
3
Experience at the garage or specialist
A great cruiser with a wonderful sound!!!
This is an original Stag with the Triumph V8 engine, it sounds nice and has a lot of power. These engines are reputed to suffer overheat problems but most now seem sorted and as long as the cooling system is kept clean and the airflow is good mine seems OK. The car and the engine was rebuilt in the late 90's, before I bought it and has done only a few thousand miles since. The immediate past owner had it stored most of the time so it has taken some time to get it loosened up and a little work and MONEY to get it running well again.
The car is 40 year old so some things will always need attention but doing a few each year spreads the cost, I find it fun to drive and comfortable for even long drives. My previous car a TR4A was more sporty but a much harsher ride and my creaking body decided it wanted more comfort.
If you are mechanically minded and fit enough with the facilities I think these are a rewarding car and can be found for a reasonable price.
Write your review
About this car
| | |
| --- | --- |
| Top speed | 120 mph |
| 0-60 | 9.0 s |
| Power | 145 bhp |
Just reviewed...