Rover 800 (1986 - 1999)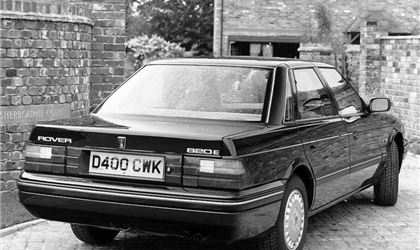 Rover 827 coupe
reviewed by DickTurbo on 1 April 2014
3
Cost of maintenance and repairs
1
Experience at the garage or specialist
3
How you rate the manufacturer
Exclusive, good looking,comfortable but a trifle thirsty
Fortunately this is a vehicle that at the moment nobody wants. You hardly see any on the road and they can be bought for very little money. You do see some low mileage examples trying for mega- money and no doubt in a few years time, we wont be able to afford them.
Driving one is like driving a big Jaguar, but no Jaguar was ever this cheap to buy and these are more exclusive. A big 2.7 Litre V6 engine , with autobox in my case, means effortless performance but you pay at the pumps , with an average of 25mpg, no matter how carefully you drive.
This is motoring in the grand style, with piped leather seats and wood, with thick carpets and real road presence. In their prime they could hit 130mph , but who cares now, just lie back and enjoy being spoilt by the luxury offered.
Now the bad bits and there's not too many. The coupes are hand finished and utilise a lot of unique body parts that are no longer available. They can have noisy tappets, rusty fuel filler necks and bodies and yes the cabin electrics can give problems , especially the electric windows. But largely, the expensive bits keep going and mechanical and servicing spares are mostly available and cheap.
If you can live with the petrol consumption and dont mind doing your own servicing and basic repairs , they are a good buy. You can be different for little outlay and you'll love it
If you are the type of chap or lady , who gets everything done at the garage and want every little fault correcting , pass this car by , its not for you and you'll hate it.
reviewed by al1 on 14 April 2011
Write your review
About this car
| | |
| --- | --- |
| Top speed | 137 mph |
| 0-60 | 7.8 s |
| Power | 177 bhp |
Just reviewed...