Rover 600 (1993 - 1999)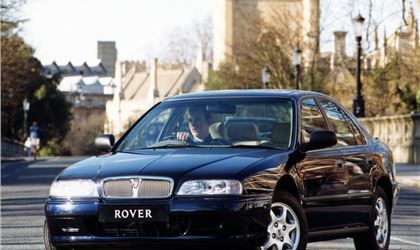 618iL
reviewed by toomanycars on 23 September 2011
4
Cost of maintenance and repairs
2
How you rate the manufacturer
Smooth, cheap reliable car!
This is our 2nd Rover 600, our 1st was a 1996 620SDi which was basic but economical and went on forever, left us when it needed £300 for an MOT, which is more than it cost, but it served us for 20k miles.

Now this one, is a 618iL which is a great spec, the nice little economical Honda 1.8 engine which actually pulls ok and returns excellent MPG, combined with the leather trim, air con and alloys. Ours is white with grey trim and the nice 7 spoke wheels. It cost £390 from a local private advert. I put it for an MOT, it needed rear pads to pass! Since then we have added 58k miles to the car in just over a year, its averaging just over 1k miles per week. Work so far, well I replaced the rear and center exhaust, rocker cover gasket, and 4 tyres for safety reasons. Its just passed another MOT needing just a bulb. Emissions are perfect and it runs like a dream. It gets an oil change every 2 months at the moment and ive changed the plugs and air filter too. It has taken me and 4 friends, plus luggage and beer to Newquay in the summer, massive heat, heavily loaded and it did 33mpg over the whole trip and felt smooth and quiet even worked hard. The Air Con is still ice cold. Problems, well the drivers electric window doesnt work (common problem) and someone lost the remote fob years ago but everything else is all good. its on about 159k miles at the moment and we will run it until it fails an MOT (not likely!!) or the cambelt snaps or something else catastrophic. These are such under rated cars, super cheap to buy, very reliable being mostly Honda and it rides very well indeed. A bit soft in the corners but its a very relaxing cruiser. Other car is an Audi A4 Turbo Sport which is nowhere near as smooth.

Its the only Rover badged car I would ever trust to take me to the ends of the country and further, (its also been to Belgium and France) but then again, its basically an Accord thats better looking!
Write your review
Just reviewed...