Rover 45 (1999 - 2005)
reviewed by Michael Eccles on 4 June 2017
reviewed by Michael Eccles on 4 June 2017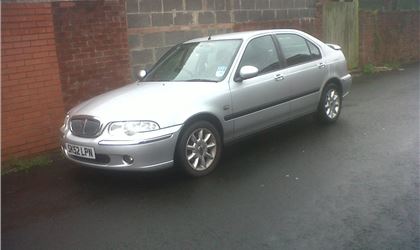 1.6 xsi
reviewed by mrspivvy on 4 October 2012
3
Cost of maintenance and repairs
5
How you rate the manufacturer
a good cheap car
For a 21st century car, the 45 does feel a little dated, particularly the interior layout and the way it drives, however you need to get used to the way it drives, it is worth it.
Performance from the 1.6 K series is pretty good- it has enough low end torque to never need to exceed 3000 rpm but it will quite happily if you want to press on, and above 3000 rpm is where the power is. it comes on cam and is quick enough bearing in mind its only a 1.6.
MPG tends to be around the 40 mpg mark as an average.
equipment levels are good, electric front windows, remote central locking, CD player with steering wheel controls, air con etc and very supportive comfortable seats.
Handling is not bad at all, its no peugeot but still fine.
It basically does everything you need a car to do adequately without excelling in any particular area.
Negatives- when the back seat is folded down for extra cargo space, you need to move the front seats forward-not good for taller drivers.
The head gasket has already been replaced on mine, and it was a pampered low mileage one elderly owner car- so this tells me that regarding head gasket failure its "when, not if."
These are now deeply unfashionable and almost worthless which means for penny pinchers you can get a good one ridiculously cheap.
Write your review
Just reviewed...