Porsche Boxster 986 (1996 - 2004)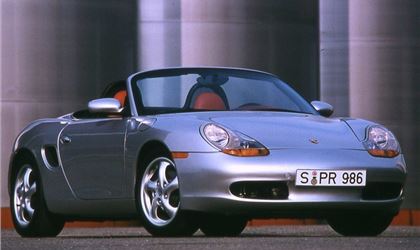 2.5
reviewed by marksussex on 26 September 2015
4
Cost of maintenance and repairs
5
How you rate the manufacturer
Bought to put a smile on my face, job done.
I bought the Boxster to make me smile. It has always succeeded. It came with Pirelli P Zero fronts and Nexen P6000 rears. Handling was twitchy to say the least but this was more down to the 4 wheel tracking/camber being out. Once this was corrected the car was sharp and precise.
The only issues have been the passenger side headlight unit stopped working, down to broken connector block, broken undertray courtesy of road debris mid corner.
I was going to use the Boxster due to its age as a weekend toy, but it is used daily, with my having put 12000 miles on it in six months including two trips of over 1000 miles in 3 days trouble free.
Fuel economy depends on the right foot but when being sensible figures of 32.3 miles to the gallon are possible. Amazing cheap sports car.
reviewed by PhilJohn on 5 March 2015
reviewed by GOM on 18 November 2014
reviewed by minimad on 1 May 2014
reviewed by Anonymous on 13 January 2014
reviewed by Richard from Essex. on 17 October 2012
reviewed by Ed form Chelmsford on 16 February 2011
reviewed by Cris_on_the_gas on 24 May 2010
Write your review
Just reviewed...