Nissan Datsun 240Z (1969 - 1975)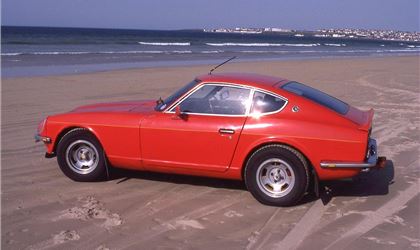 Datsun 240Z
reviewed by PortJac on 4 March 2014
3
Cost of maintenance and repairs
3
Experience at the garage or specialist
4
How you rate the manufacturer
Quick and reliable and looks great, but can rust a lot.
I bought my Datsun 240Z at a time years ago when it wasn't that sought after. The seller had advertised it in the classifieds section of the local newspaper and hadn't much success. Most people then had poor associations of the name Datsun. I however recognised that 240Z meant something special, since as a young teenager I often frequented the local Datsun dealer in our town.

My 240Z was a 1974 model in orange red with period 1970's Wolfrace slot alloys. It looked great from a distance but didn't bear close examination. The metal on these cars was thin and rusted a lot, and my example had quite a bit of bubbling in many places. The footwells had also rusted out and had new pieces of metal welded in. The doors shut with a clang rather than a solid thud.

The straight six engine was in fine form however and pulled lustily. Acceleration was quick and the240Z was one of the fastest classic cars I owned. In fact it encouraged fast driving and had good handling. It felt like a bit of a large go-kart to drive, you certainly felt the road and the suspension was firm.

Climbing into the low slung cockpit was a special experience, you sat low in the high backed vinyl seats, before you was a lovely wood rimmed three spoke steering wheel and one of the nicest dashboards – large speedo and rev counter were straight ahead and three ancillary gauges were moulded high in the centre of the dash. Even the blue instrument illumination at night was evocative. The front windscreen was narrow and a bit like looking out through a letterbox. The interior was all black vinyl but done with 1970's panache, I especially liked the cross hatching on the transmission tunnel.

On the move the steering was heavy and you had to drive the 240Z with some vigour which all added to the appeal. The short throw wood topped gear lever was precise and snicked easily between ratios. Even the choke lever was lovely, a little wooden hook you adjusted to get the mixture just right on cold starts. Although it was an old car everything still worked well, the levers and switches had that Japanese precision, and all the electrics were perfect.

To sum up it was an excellent classic car, it looked great, was fast and reliable and had that early sportscar feel you just don't get with modern cars. I wished I had kept it longer as they are now really appreciating in value. Just be sure to check everywhere for corrosion.
Write your review
About this car
| | |
| --- | --- |
| Top speed | 125 mph |
| 0-60 | 8.3 s |
| Power | 160 bhp |
Just reviewed...