Mercedes-Benz C-Class (1993 - 2000)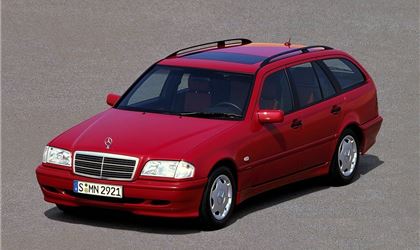 MERCEDES CLK 230K AUTO CONVERTIBLE
reviewed by Lord Brasic on 14 October 2016
5
Cost of maintenance and repairs
5
How you rate the manufacturer
THE BEST CONVERTIBLE I HAVE EVER OWNED
I have had Saab's MX-5's and a SLK, this old CLK is much better. Its automatic, the box is very smooth and the engine is quiet powerful enough and good on fuel. I've done just over 2k in 2 weeks and the car has been great. The roof works well and its quiet and snug for roof up motoring. Roof down and all windows up its also good at motorway speeds.
The car really appeals as I do have other Merc's and I like the feel of quailty that other makes don't give me. Ok so an MX-5 is more fun on a b road, but, its too low for me to drive now and the Merc is really easy to get in and out. It is a much nicer, stiffer dirve than a Saab, more practical than the SLK as the CLK has a decent size boot.
I will enjoy this with my other Merc's at 120k and rust free it should last me for years as I will change the fluids, keep the body work good and treat the hood.
To some it may not yet be a classic, but in a few years it will be hard to find a good one.
reviewed by Motorbanter on 26 July 2016
reviewed by JMBH on 26 June 2016
reviewed by Harry Z on 15 April 2015
reviewed by Eureka on 7 December 2014
reviewed by Crewe1 on 11 May 2014
reviewed by quartermillionmiles on 28 March 2013
reviewed by lowdrag on 24 February 2013
reviewed by cherryred on 6 January 2012
reviewed by tescodirect on 8 September 2011
reviewed by gdbza1 on 9 June 2011
reviewed by redlorry on 26 February 2011
reviewed by d_taddei2 on 6 January 2011
reviewed by Rich71 on 29 May 2010
Write your review
Just reviewed...