Jeep Wrangler (1993 - 1996)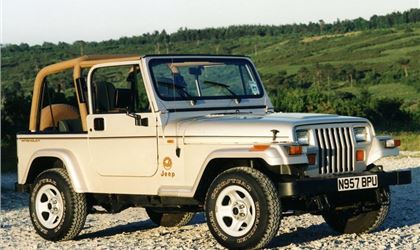 4.0l wrangler YJ limited
reviewed by Anonymous on 13 January 2019
5
Cost of maintenance and repairs
5
How you rate the manufacturer
Best fun in a car I've had for years!
I've always fancied one of these and I've probably had more cars than most from very slow to extremely fast. I was going to get a Healey 3000, one of the few I haven't had. My wife said I would get bored with it, so why not get a wrangler and go 'Jeepin' The handling on leaf springs is 60s ish(sheer fun) , the simplicity of the controls is stress free and it gives me a big grin every ride. Don't buy one unless you are happy on opposite lock with no ABS or traction control etc. The comfort with new springs etc is amazing, rides better over potholes than modern cars and you don't have to slow down! I only do sensible offroading but am surprised how it can out perform much more expensive modern machinery. I have checked , renovated , whatever, and now I have been all over uk in it. Being a Jeep( I have had six ) its been reliable fun unlike many competitors. Acceleration is very good for a 2 ton car although mpg is less so, depending on one's point of view. I get 25 on motorways but about 15 in town.I don't think its that bad considering the weight, performance and a straight six 4 litre.I understand that there only about 60 left on the road in the uk of this model out of 10k odd sold.
reviewed by Anonymous on 13 January 2019
Write your review
Just reviewed...