BMW 7-series E38 (1994 - 2001)
reviewed by Surrey59 on 21 August 2019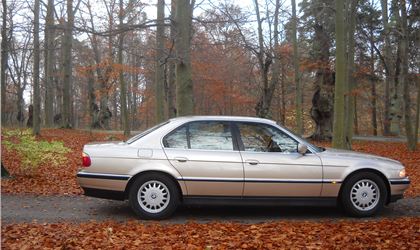 740i
reviewed by Olof Kallstenius on 25 June 2018
4
Cost of maintenance and repairs
3
Experience at the garage or specialist
4
How you rate the manufacturer
Wonderful everyday classic if you can find a good one.
With the one exception of the 507, BMWs are not actually beautiful. They look at best fast and competent, but the E38 alone has a touch of elegance and glamour - perhaps enhanced by the successor's contrasting air of blinged-out running shoe. A well kept E38 will like no other BMW draw spontaneous appreciation from innocent bystanders. Its looks is in my opinion a major source of owner's joy. The predecessor E32 is a great looking car but a concern more for BMW enthusiasts.

Compared with that same E32 the interior design is somewhat degenerated, but the over-all experience is nevertheless addictive. The car is wonderfully spacious, with ample room for head, legs and shoulders, and a proper low-slung waiste line - in this aspect, most new cars seem ridiculous in comparison. The E38 interior gives a very mature impression - comfy seats with just enough sense of road and chassis, quiet with just enough V8 rumble, and so on.

The main reason to buy one is of course driving quality. For me, it's BMW steering that saves me from buying anything else - just enough to give you complete control without being overly dramatic and nervous. The V8 is smooth without ever being boring. Yes, new cars may accelerate a tad faster but who cares? The ride can be a bit rough at least for passengers, and with age even owners may start looking for something softer to use on average city streets. On open road though, it's hard to come by anything more rewarding.

Reliability is one other reason I drive BMWs. I have bought two 120 000 miles bargain E38s and driven them far and hard in all conditions without any concerns. I do spend time and money taking care of them but cost is nowhere near what I would have to pay for a modern equivalent. (I drove a much newer upmarket model from a Stuttgart make the other day and came out laughing my head off, so there's no reason to change anyway.) Things wear and break, but service and repair costs are quite humane. I would easily spend twice the car's worth on repairs just to hang on to a nice 740.

The only real problem is finding a good E38. Produced in massive numbers, they have also been abused in massive numbers. There are more fun cars around, why not an early E23 for instance, but the E38 is notable for being both so usable and enjoyable.
reviewed by ABlackDog on 26 November 2010
Write your review
Just reviewed...