BMW 7-series E38 (1994 - 2001)
reviewed by Surrey59 on 21 August 2019
reviewed by Olof Kallstenius on 25 June 2018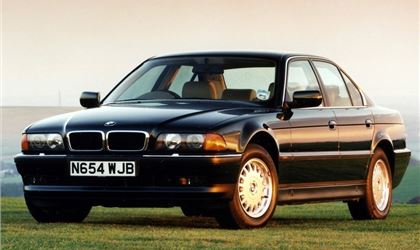 96 740 4.4
reviewed by ABlackDog on 26 November 2010
3
Cost of maintenance and repairs
3
Experience at the garage or specialist
4
How you rate the manufacturer
Brilliant for long journeys fun to drive however not really suitable for day to day use
This is the perfect motorway machine. It is also comfortable and a pleasure to drive on the smaller roads. Even in the city the combination of the light steering and tight turning circle and smooth transmission makes it a real joy.

The first thing to realize is that no seven series is really suitable for everyday personal use. They are plainly just too expensive to run.

However as a weekend or spare car the seven series is a perfect choice. It really does make long trips easy. I was living in London when I purchased mine and it was absolutely perfect for me as I mostly did not use a car during the week.

In my opinion the 740 is the ultimate seven of the era. The smaller engined cars just do not perform enough to justify the running costs of the big car and the 750 (V12) is just too thirsty.


The main costs of running these cars (aside of insurance) is the petrol and tires. It is worthwhile to find a specialist garage that knows the cars and is prepared to use both BMW and quality OEM non BMW parts.

One can expect to replace a suspension part or two at every MOT (even on low mileage examples) as the lifetime of some of the original parts is short.

When buying these judge these cars on condition firstly and foremost. A long test drive is imperative as transmission and engine problems may not show up on a run around the block.

Engines will last the life of the car if oil and antifreeze is changed and they are never overheated.

Change the automatic transmission fluid (applies to most cars nowadays) which is claimed to be lifetime however their definition of lifetime is shorter than the actual life of the car. My research and experience dictates change it every 50K miles (use the correct fluid).

The other item to watch are the belts pulleys, fan clutch and water pump which can fail without warning. I recommend possibly changing the water pump every 60K miles but at least removing the drive belt in inspecting everything.

When new these cars were considered complex however by nowdays standards they are actually quite simple and well undeerstood by people who are technically up to date with modern cars.

A well maintained 740 will give lots of pleasure, and best of all these cars are peanuts to buy now and with a sensible approach to maintenance not too expensive to maintain.
Write your review
Just reviewed...