BMW 3-Series (E36)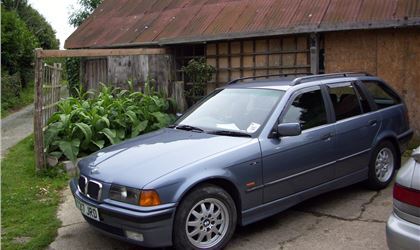 318i tourer
reviewed by mart37 on 15 October 2016
4
Cost of maintenance and repairs
1
Experience at the garage or specialist
3
How you rate the manufacturer
A great car! suits me 100%
A month into owning this car I had to replace the head gasket. I ported and smoothed out the head ground the valves in and had it refaced. this was on 117,000 miles I replaced the water pump as well. Since then I have just done the normal wear items; rear shocks, springs, disc's, pads, and cat. I get 37.8 mpg on Shell V power knocking around, and driving steady. I like the colour (stalhe blue), and the amount of room in the back. everything still works on it at 145,000. I don't like the clutch judder when cold and the difficulty in getting it into 1st gear. I never got a remote key from the seller. I'd love to have one but am put off by the main dealer price. I always do my own repairs, and intend to keep it for the remainder of it's life... I paid £750.00 for it and it's cost me the same again in parts, and servicing items. Including in that is a spare gearbox and engine (M43 B18). It has no corrosion and the paint is good. I'm paying £162.00 for insurance with 4 years N.C.B. I'm not interested in how fast it goes, rather good mpg does it for me.
reviewed by chrisbwray on 4 April 2015
reviewed by chrisbwray on 4 April 2015
reviewed by JTallodi on 7 November 2014
Write your review
Just reviewed...