Happy Birthday: Ford Sierra Cosworth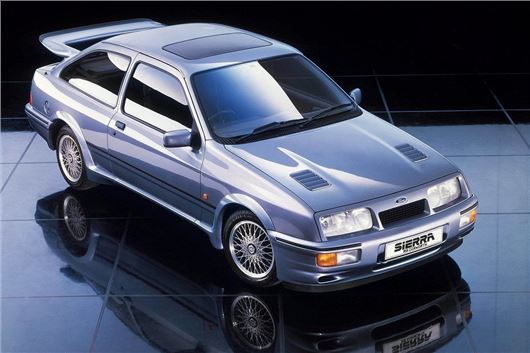 Published 10 June 2016
There was a lot to dislike about mid-1980s Britain. A competitive social climate, a growing gulf between the haves and have-nots, awful fashion, a glut of UPVC in construction and tasteless bling being just a few of them.
But for those of a certain age, there were other things about the country that were brilliant. The music, for one. And then there were the cars…
While poster pin-ups like the Ferrari Testarossa and Lamborghini Countach may have taken the decade's indulgence to its in-yer-face excess, there were other cars that managed to perfect the balance between outrageous, and eternally desirable.
The Ford Sierra Cosworth was one such car.  It was a timeless formula. Take one family Ford, homologate it for motorsport, build a road version and create an icon that will forever be adored and revered, even though those who canonise it should probably know better.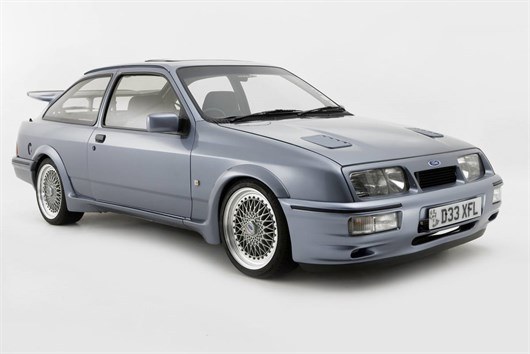 The Sierra Cosworth could have looked awful. But it didn't. Despite the huge bonnet scoops and outrageous whale tail, which made the rear protuberance on the already lairy XR4i look under-endowed, there was a harmony to its styling that made it immediately striking, and cast a halo across the rest of the already avant-garde (in styling terms at least) Sierra range.
But make no mistake. The Sierra Cossie wasn't bling for bling's sake. Far from it. At the time the idea was cast, back in 1983, Ford's head of motorsport was Stuart Turner, the former head of BMC/Leyland's Competitions Department and an instrumental figure in the Mini Cooper's incredible rallying success. Turner was a man who knew how to win races, and with the Sierra Cosworth that was his only raison d'etre. The fact that it looked flippin' awesome was nothing but a mere coincidence.
Turner engaged Ford's then PR-boss, Walter Hayes, in a plan to take the Sierra both circuit racing and rallying to raise its profile - a move critical to Ford after the 'Jellymould' received a lukewarm reception at launch. The aim was two-fold – to put Ford at the forefront of world motorsport, and to make the Sierra more desirable. It was to score ten out of ten on both.
Ford approached its long-time partner, Cosworth, with a brief to develop an engine for the new machine based on the existing 2.0-litre Pinto. The brief was simple: it needed to develop at least 180bhp in road form and 300bhp in race-tune, and Ford needed 5000 engines to ensure homologation in Group A rallying and Touring Car racing. Cosworth's response was partly in agreement, but stipulated that the road car had to produce over 200bhp, and it would only consider a supply agreement of 15,000 engines.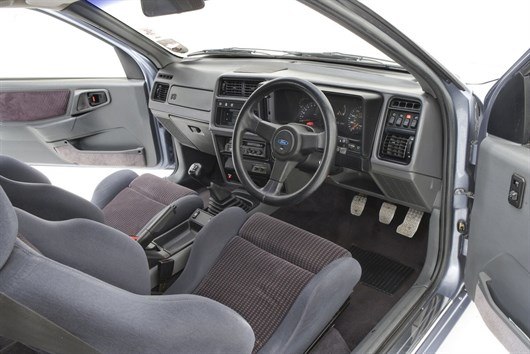 After much to-ing and fro-ing with dealers and management, Turner finally got the green light in late 1984, and started building development mules in 1985. The car was a big risk to Ford, with dealers estimating that they could perhaps only sell 10 per cent of the volume required by the Cosworth engine contract, but the Motorsport team stuck to their guns, and in the summer of 1986, the Sierra Cosworth made its debut.
Available in only three colours, Black, White and the utterly stunning Moonstone Blue, the road car had a 2.0-litre turbocharged engine developing 204bhp, mated to a five-speed Ford Mustang transmission – the only gearbox in Ford's global line-up considered strong enough for the performance demands that would be put on it when tuned to (way) in excess of 300bhp. Unequivocally, it went down a storm with the motoring press.
Changes to Touring Car homologation led Ford to create the ultimate Cosworth a year later in 1987, commissioning Aston Martin's special tuning arm, Tickford, to create 500 road cars featuring the new competition engine, with a bigger Garrett turbo and uprated oil and coolant cooling systems.
The RS500 was a huge motorsport success, taking victories in the World and British Touring Car Championships, as well as in Australia, where for homologation reasons alone, the Cosworth was the only Sierra model sold.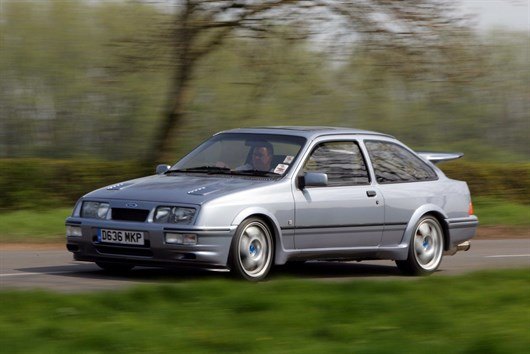 By the end of 1987, almost 6000 Sierra Cosworths had been built, but Ford had yet to fulfil the engine contract agreement it had with the supplier. To complicate matters, the Sierra was having a major facelift, and among that came plans to drop the slow-selling three-door model completely, and instead introduce a four-door variant known as the Sierra Sapphire to compete in markets where fleet users didn't favour hatchbacks. Company cars, after all, were Ford's bread and butter, and the motorsport campaigns were no more than vanity.
The five-door Sierra was nowhere near stiff enough to cope with Cosworth power or be considered for serious Motorsport, so Turner's team turned instead to the saloon for the next generation of Cosworth. The rear-drive Sierra Sapphire Cosworth appeared in 1988, and although it was never used as a circuit racer, the halo-effect cast by the three-door models was enough for it to be a marketing success, selling in excess of 13,000 in less than two years. The Sapphire Cosworth, though, was struggling quite seriously in the motorsport arena.
Fast forward to 1990, and with a modern new decade came a modern new sporting Sierra. The Sapphire Cosworth 4x4 was built specifically to take Ford seriously back into rallying, and while its excessive weight somewhat hampered its achievements, never winning a WRC event, the platform and the lessons learned from developing it went on to underpin the Escort RS Cosworth, which was based not on the platform of the Escort as many believed, but on that of a truncated Sapphire 4x4. It's the car, then, that Ford can thank for its rise to WRC championship status.
Raced, rallied, revered all over the world – the Sierra Cosworth was an incredible motorsport success story. But more than that, it was a performance car that defined an era, and already, as it celebrates its 30th birthday, it's regarded as one of the all-time iconic classic cars. And while that puts prices out of reach of most mere mortals, having seen astronomical increases in the past four or five years, it certainly deserves to be honoured.
Comments
Author

Craig Cheetham
Latest