Fiat Multipla (2000 - 2004)
Last updated 12 October 2017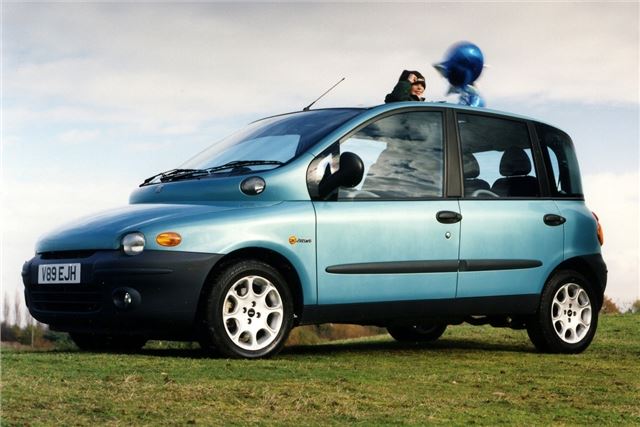 Buying Guide
Good
Dashboard gearshift, so no obstructions in the floor. 

Excellent 105 bhp 1.9JTD engine pulled it to 115 mph on the Millbrook test bowl, so must be more aerodynamic than it looks. 103 bhp 1.6 16v has very good steering, handles much better than diesel and can be thrown around like a hot hatch. 

Twin lens mirrors make it easy to judge kerbs for parking. Bright range of colours.
Briefly became a fashion item. 
Fiat generally had below average warranty repair costs in 2003 Warranty Direct Reliability index (index 75.82 v/s lowest 31.93).
Rated one of the cheapest MPVs to run and 'Worth Considering'in 2003 Which survey. 
Bad
Controversial looks. Diesel suffers roll understeer on tight bends (petrol doesn't). 

A long step up to the seats and down from them for the elderly or infirm (much easier from a high kerb). 

Petrol model is short-geared and gets noisy at around 80 mph. 

Poor performance in TUV/Auto Bild front offset crash test. Worst mini MPV score of all of 56% in Euro NCAP 2001 crash safety tests (but Fiat later claimed to have modified it to achieve a four star score). 

Fiat/Alfa joint worst for breakdowns attended by German ADAC during 2001.
Came 8th = from bottom in 2005 JD Power/What Car Survey of 23,000 cars reg Sep 2002 to Aug 2003 with satisfaction score of 73.6%.
1999-2005 Multipla 5th least reliable car in 2007 Warranty Direct Reliability Survey with 52 faults per 100 cars.
Watch
Make sure everything works and exhaust not blowing. 

Lots of niggling faults, especially with alarm/immobiliser. 

Some of the trim is a bit cheap: rubbery plastic on ashtray peels off, seat material not very robust. 

Petrol engined model lacks the splash undertray of the diesel and in really bad wet and salty road conditions the engine can ingest water and self destruct. 

One-piece exhausts of petrol models (from car back)have a fairly limited life and cost £275 for the part alone to replace. 

Clutch master cylinders can have a relatively short life of 15k to 20k miles, but the problem is usually nothing more than a broken spring inside them and a local garage can fix that for the cost of an hour's labour. 

If it loses 4th gear the reason is often a bit of broken alloy casting getting lodged in the groove of the selector shaft, stopping the cogs from engaging. But means a transmission strip to fix it. 

Timing belts, tensioners and pulleys need replacing every 36k - 40k miles. Also need new waterpumps because pumps are driven by timing belts and if they fail the belt gets flung off. 

Dual mass flywheels on diesels fail earlier than you would expect a clutch to fail. 

More Multipla woe "About two months ago I purchased a 2002 Fiat Multipla JTD 115 ELX with 65,000 miles in ostensibly very good condition and FSH. Since then I have had a Turbo overboost valve replaced and a snapped alternator belt. On perusing various Multipla owners websites I have found a littany of faults that I too recognise. Various electronic faults, (I currently have an airbag warning permanently on, a glow plug circuit flashing warning, and a "humidity in diesel filter" warning), excessive tyre wear (12000 miles), premature seat cloth wear, ineffective handbrake, misted up headlights, wishbone and drop link bushing failure."
Recalls
2006 Recall due to a spate of failing front suspension springs.
Back: Driving