Top 10: Weird and wonderful cars at Studio 434
With 420-strong collection of cars, Studio 434 is reckoned to be one of Europe's largest privately-owned vehicle collections. Started by Rodger Dudding 50 years ago, it was inspired by his father's 1952 Morris Minor. It was this vehicle that light the flame for Rodger's love of all things automotive and which continues to ignite his enhtusiasm today.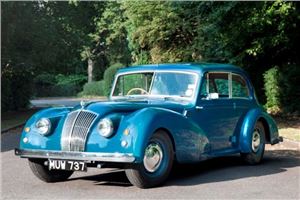 1
Produced in Surrey between 1947 and 1956, only 1284 AC Two-Litre, four-door saloons were ever produced and even fewer drophead coups and tourers made the production line. the AC 1991cc engine was the first offered by the company in the AC 16 in 1922 however, by 1947, the engine boasted a power output of 74bhp and increased again in 1951 to 85bhp, more than twice claimed for the engines original application. 
 
An aluminium paneled body on a wood frame was fitted to a conventional steel chassis with rigid axles front and rear and semielliptic leaf springs. For the first time on an AC, hydraulic dampers were used and, until 1951, the car had a hybrid braking system; hydraulic at the front and cable at the rear. In 1948, a two-door saloon car costing one thousand and two hundred and seventy seven pounds was tested by The Motor magazine achieving a top speed of 80mph and could accelerate from 0-60mph in 19.9 seconds.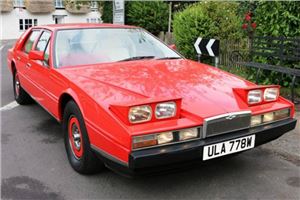 2
1981 Aston Martin Lagonda Series 2
This Aston Martin Lagonda was the factory press car with the registration number AML1 and was subject of a comprehensive four year restoration programme which was carried out by the previous owner and completed in 2009. It included a full re-spray in the striking colour of red with brand new cream leather piped in red interior and new veneers.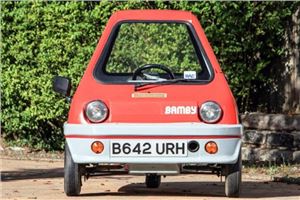 3
1984 Bamby Tricycle
All Bamby cars were three-wheelers with the single wheel at the rear. On the later models such as this, the brakes were hydraulic and two headlamps fitted replacing the single unit on early Bambys. The model was exhibited at the Ideal Home Exhibition of 1984, meeting with overall public approval but few were made and the final Bamby left the factory within a few months. This Bamby was registered on 26th, September 1984 and has only covered 2613 miles from new. These are unusual vehicles bearing a strong resemblance to the Peel P50. With production of the Bamby in very low numbers (thought to be around 25 units), these are very rare and collectable microcars.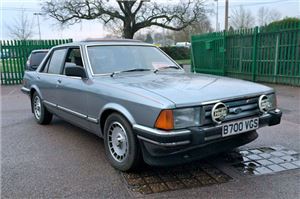 4
1984 Ford Granada Mk2 Ghia
The Granada Mark II was released in August 1977 and was produced until April 1985 following a mild facelift and attention to drivetrain NVH in 1982. It was a development of the previous car, the main differences being the Cologne V6 engine in 2.0 L, 2.3 L and 2.8 L forms replacing the older Essex unit , and the introduction of features such as air conditioning and, for the top-price 2.8-litre versions, fuel-injection.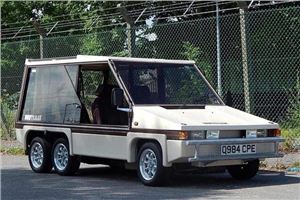 5
1986 Hustler Huntsman
The Hustler was a Mini-based project designed in 1978 by Aston Martin Lagonda designer William Towns and later developed into a kit car by his Interstyle design studio. The original version used upper and lower square-section steel frames, clad with glassfibre panels and large flat glass windows.
On most models sliding side windows acted as doors. It used the front and rear sub frames and mechanical components from the British Leyland Mini, Metro or BMC1100/1300. The Hustler came in four and six wheel versions: the six-wheel version used two Mini rear subframe assemblies. The style was very much off-road/utility.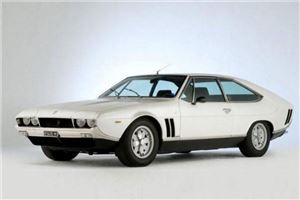 6
1975 Iso Rivolta Coupe
The Iso Rivolta is a luxury coupe that was introduced in 1962 by Iso Automotoveicoli S.p.A. of Bresso. Company chairman Renzo Rivolta and his colleague, former Ferrari engineer Giotto Bizzarrini saw it as a Gran-Turismo car in the original sense of the term, designed for long and memorable journeys. For motor racing, however, the car was homologated not as a GT but as a Touring Car.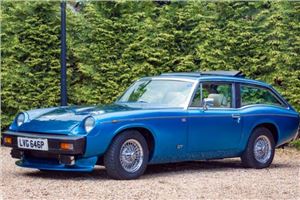 7
1975 Jensen GT
The Jensen GT was introduced in 1975 as the shooting-brake version of the Jensen-Healey. The new configuration was a 2+2 design with a very limited back seat. Aside from the body shape and seating, relatively little differed from the roadster. Acceleration and top speed were slightly reduced due to the increased weight and additional smog control components on the engine. During its short production run from September 1975 to May 1976, only 511 Jensen GTs were built with only 250 cars being righthand drive.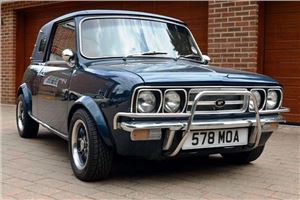 8
1980 Mini Wood and Picket
(W&P) Margrave Elite Landau conversion of the popular Austin Morris Mini. The Alex Issigonis-designed Mini became the classless but chic motor car to be seen in. Wood & Picket established itself in the 1960s and was led by Bill Wood and Les Picket, the ex-employees of the specialist coachbuilder Hooper & Co. Bill and Les specialised in meeting the increasing demand for highly luxurious Minis that had sprung up developing their own uprated Mini model, known as the Margrave, their first customer being the actress, Hayley Mills in 1964.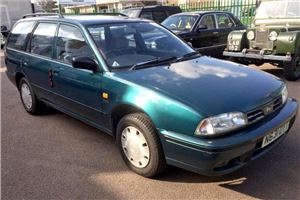 9
1996 Nissan Primera
The Nissan Primera is a large family car which was produced by the Japanese car maker from 1990 to 2008, for the Japanese and European markets. In Japan, it replaced the Nissan Stanza & Auster, and was exclusive to Nissan Prince Store locations. It was a platform upgrade, with engine performance and suspension modifications of the Nissan Pulsar.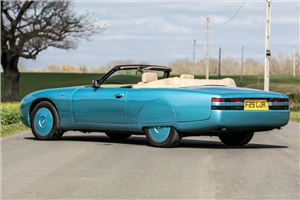 10
1989 Jaguar XJS Convertible (Railton)
This Railton F29 Claremont is one of only two ever made. The brainchild of Williams Towns, designer of the DBS V8 and 'Wedge' Lagonda. The car is based on the running gear of the V12 XJS and clothed in a streamlined aluminium body. The distinctive bodywork was created by Park Sheet Metal. Finished in a light Metallic Blue and trimmed throughout in cream leather with polished walnut cappings. The car boasts ABS, cruise control, air conditioning, automatic gearbox, heated electric seats, electric windows, and a powered hood.