Top 10: Future classic cars for less than £1000 you need to buy in 2020
Thanks to the huge numbers of car buyers who think that newer is better - and the attitude of the used car trade, which is increasingly scrapping perfectly good motors due to depressed values - we're living in a bit of a golden age for those who enjoy something interesting for very little outlay. It's perfectly possible to pick up what were once the nation's most desirable 'must have' cars from 10-15 years ago for next to nothing.
So, in the spirit of preserving the past, we've picked out 10 so-called bangers of today, named their spiritual predecessors, and tell you while they're both great to own now, and well worth preserving for the future. So, if you're in the lucky position of being able to own a second car for high days and holidays, and aren't in the position to spend a great deal of money, you could consider any of these cars now sitting at the absolute bottom of their depreciation curves - they're fun, and most importantly, if you stay on top of their maintenance, and buy one that's not at death's door, they're sure to go up in value in years to come...
We have avoided the obvious Coupes, as we've already covered them before in some detail.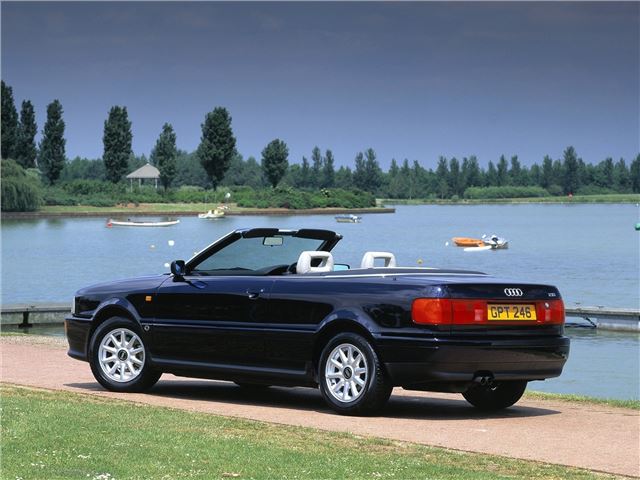 3


Audi Cabriolet (1991-2000)
It's the modern-day 100S
The Audi Cabriolet was built in response to the surprise popularity of the E30-generation BMW 3-Series Convertible. Like its Munich rival, the Audi was a four-seater that was unencumbered by the unsightly roll-over bars that marred the visual appeal of so many saloon- and hatchback-based cabriolets. Like its saloon, coupe and estate bretheren, the Audi Cabriolet was a well-made car, with a solid interior and rust-free galvanised body. Because of their long production life, the Audi still looks reasonably modern (or is that timeless?) today, and looking at the image above, it seems amazing that you can pick one up for less than a grand. You'll be looking at an early car, with 1.8-, 2.0- or 2.6-litre petrol engines - and certainly the four-cylinder options are a well-known quantity, and relatively easy to keep in fine fettle. Not bought with driving excitement in mind, though.
Comments