Top 10: Cars for sale at H&H auction
There are plenty of tempting classic cars for sale at H&H auction on Wednesday. Here are ten of our favourites.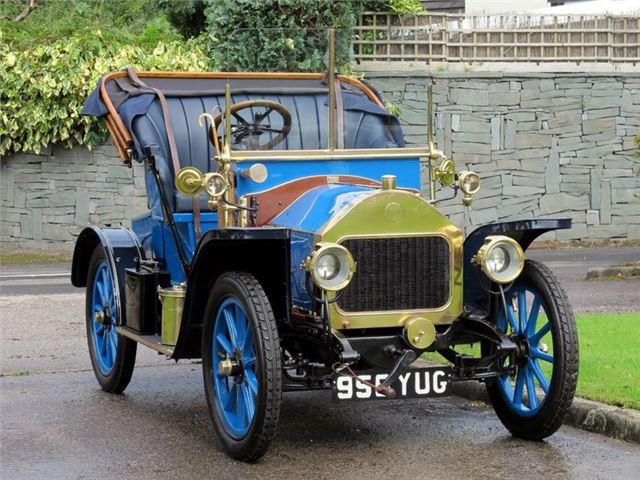 2


1908 Darracq Type R 10/12hp - Estimate: £35,000-£40,000
According to a typewritten account in its history file, chassis 17060 lay idle in a Somerset orchard for 25 years before being `discovered' during 1940. Returning to the road the following decade, the Darracq was issued with Certificate of Dating No. 399 by the Veteran Car Club of Great Britain on 15 April, 1954. In addition to identifying its year of manufacture as 1908, the Club noted that the Type R was road registered as `LB 6416', wore two-seater coachwork and had the larger twin-cylinder 10/12 engine (bore 112mm x stroke 120mm).
Acquired by Howard L. Gutteridge during 1964 but infrequently licensed over the next ten years, chassis 17060 found a more active custodian in J. Stuart White who used it for the Hull-Scarborough Run, Peter Black Rally and other North East Section events. Migrating to Holland during the late 1980s, the Darracq appears to have been on museum display for a while (or so various accompanying photographs depicting it alongside similar brass era cars and period-attired mannequins would suggest).
Treated to an extensive restoration in 2004, the Type R had much of its woodwork renewed ahead of a repaint from Green to Blue plus a re-trim and attention to its wiring and wheels / tyres etc. Entering the current ownership some three years ago, the two-seater has since been re-registered by the DVLA as `956 YUG'. Stated by the vendor to run well and to have a surprising turn of speed thanks to its willing twin-cylinder engine and three-speed manual transmission, the Darracq remains highly presentable.
Sporting a rear-mounted spare tyre, wicker parasol holder, split windscreen, wood-rim steering wheel and brass lighting set, it looks every inch the Edwardian gadabout. Ideal for the Creepy Crawly and other VCC events, this charming Type R is offered for sale with V5C Registration Document, assorted literature, copy VCC Dating Certificate and numerous restoration photographs.
Comments