Nine of the best classic Skodas
This year, Czech car maker Skoda celebrates its 120th birthday. It's come a long way since its beginnings in 1895. Back then, its first production model used two wheels rather than four. It wasn't called Skoda, either. The story starts when two cycling fanatics got together to make and sell bikes. Mechanic Vaclav Laurin and bookseller Vaclav Klement sold their two wheel offerings under the name Slavia. The bikes sold so well that by 1899 they were knocking out motorbikes under the name Laurin & Klement.
The pair's first car, called the Voiturette A, arrived in the early 1900s. The outbreak of war in 1914 meant the company swapped motors for munitions. In the face of tough economic conditions in Czechoslovakia, the pair needed help from a strong industrial partner. That help came from engineering firm Pizen Skodovka and the subsequent merger in 1925 created Skoda.
After some success, challenging political and economical conditions meant the future of the company was uncertain. By the 1980s its cars were out of date and largely out of favour. But with the collapse of the Berlin Wall, a new free market economy arrived and Skoda was once again able to look for a strong partner. A joint venture with Volkswagen followed in 1990 and the rest, as they say, is history.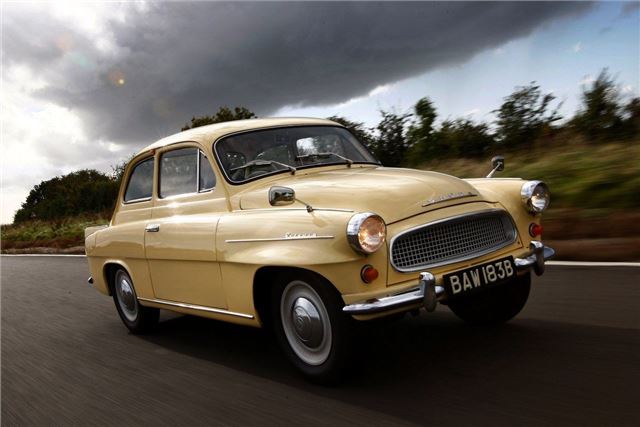 6


1964 Skoda Octavia Saloon (1959-64)
The sister car to the Felicia roadster, both cars were a big step forward for Skoda design and engineering. Okay, so they still used a swing-axle set-up at the rear but the front was now sporting double-wishbones, an anti-rollbar and pricey coil springs like it was the 1930s. Skoda had the last laugh, though, with an Octavia's finishing first in class (and sixth overall) on the 1961 Monte Carlo rally… despite having a gear shift that runs back to front with first closest to you.
Comments