MG MGF (1995 - 2002)
Last updated 27 November 2018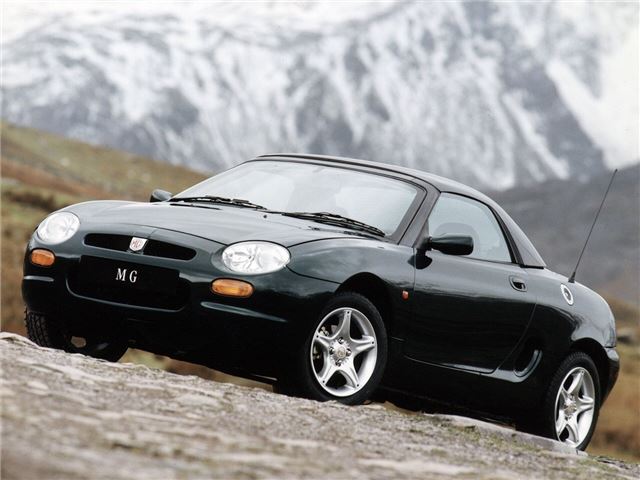 The MGF was developed on a budget that might just have kept BMW's staff canteen in Munich in Bratwurst for a couple of weeks, and using a raft of components dug out of the Rover parts bin, it arrived at the height of the roadster boom of the mid-1990s, and proved a rather profitable venture for the company. Yes, its critics may dismissively describe the MGFas little more than a back-to-front Metro with a big engine in it, but after a recent re-visit, it's difficult not to come to the conclusion that the Rover engineers were pretty good at re-cooking their meat 'n' two veg into something rather spicy...
Take a look at the styling, and time has been kind to the MGF- the organic curves may be a little out of fashion right now, but that doesn't stop it being balanced and characterful. Considering it's mid-engined, non-car people would be hard-pressed to tell that you actually sit in front of the powertrain. Fans of Italian supercars might think that's a bit of a waste - but low-scuttled wedge designs and Metro front bulkheads don't really mix. So, given that compromise, you have to conclude that Gerry McGovern and his colleagues made a great job of the MGF.
The running gear's a masterclass in stirring the pot - Metro Hydragas interconnected suspension, K-Series engines, offered initially in 1.8-litre form, but expanded to include the VVC cylinder head, and a bunch of R8 and R17 interior parts. For someone into 1990s Rovers, it makes the MGFa delightful place to sit. However, the chassis engineers developed it into something rather special - and if you're worried about the idea of a Hydragas suspended sportscar, then fear ye not... once you get your head around the idea, and actually drive it, you'll be pretty pleased...
Performance and Economy
Okay, so at 1087kg, the MGF is no lightweight - and there are plenty of sporting hatchbacks with plenty more muscle and trimmer bodies that will leave it for dead in a straight line, but that's not what this car is about. It's no cruiser, either - slightly frantic gearing and a peaky engine means you'll not be slogging at low speeds in a high gear in the pursuit of effortless progress.
No, the MGF is a car that you actively have to work at to make decent progress in - and that pays penalties at the pumps. Cars of this nature are supposed to be easy on the pocket, but 30mpg's about the best you can expect if you like to go quickly. But for most owners, who have chosen on as their second car, that's probably not the handicap it would normally be.
In a straight line, it's quick enough, though. Thanks to excellent traction off the line, 60mph comes up in 8.7 seconds, and the top speed is a respectable (for its 118bhp power output) 123mph. In the real world, a mildly quick turbo diesel will leave it far behind on the motorway, but factor in traction exiting corners or roundabouts, and the sheer amount of lateral grip available (in the dry) and the MGFmore than holds its own.
Handling and Ride
The MGFis a compact and wieldy car and that means you'll enjoy hustling it through bends. That's pretty obvious really - it's fairly low and the engine's mid-mounted, resulting in near-perfect weight distribution. However, what will surprise - and hopefully delight - is the excellent ride quality. Okay, it's no Rover 75, but we'd compare it favourably with a number of newer family hatchbacks in terms of control and softness.
However, that relatively compliant ride and well-controlled damping doesn't lead to rolly-poly cornering - like many Hydragas suspended cars, it's flat in bends too. For anyone with a pre-2005 MG TF, a ride up a rough B-Road will be an enlightning experience, in fact, a bit of a revelation. In fact, it's only the scuttle shake and associated rattles that will really ruffle you - not the boneshaking ride normally associated with such cars.
You'll be able to tackle your average cross country run at enormous speed as a result - unhindered by the crashiness and joggling you might expect from contemporary rivals, and be egged on by the sheer amount of lateral grip on offer. In fact, it all seems rather effortless, and you'll only realise you're mullering the road you're on by the speed you catch (and pass) the cars around you.
In the wet, it can't bend the laws of physics, though - and snap oversteer can turn into a very nasty spin... so be careful when playing.
In short, the rough and tumble of the city streets shouldn't be too much of an inconvenience, rough roads are pretty much shrugged off - aside from when the short wheelbase conspires against you, and motorways are a stable and four-square planted affair...
At the wheel
Although it wouldn't be correct to describe the MGF's interior as anything other than functional and a little drab in the industrial greys and blacks of our car, there's a certain style that will endear it to AR readers. You'll be clasping an R8 steering wheel, twiddling R17 knobs and peering into Metro/100 rear view mirrors - making this a sportscar that you'll feel quickly at home in and not at all intimidated by. Some aspects of the ergonomics are exasperating, such as the electric window and foglamp switch placement, and you'll be wondering at what the point of some of the tiny storage compartments actually is.
The controls themselves are generally good to use though. The EPAS steering is overlight and slightly undergeared, and long term ownership might be more enjoyable with the fuse pulled out; also the gearchange lacks the snickety-snick of a Mazda MX-5, and the brakes don't seem to have much initial bite. The seating position's also a bit on the high side too - and there's no real reason for this, other than making the MGFnew-car test-drive friendly.
But these are small niggles, and within a few miles, you'll be feeling confident and happy.
Finish and equipment
As explained previously, there's an awful lot of carry-over equipment in the MGF, and to the sanitized fingertips of your average 21st century car enthusiast brought up on soft-feel plastic and damped grab handles, it probably feels a little low-rent. But don't be fooled, because it's all solid and functional - even if it's unglamorous. The hood itself is elegantly simple, well engineered, and you'll get it up and down just as quickly as your average C+C poseur, but without all the weight and complexity.
It would be nice if there had been a glass rear window from the beginning (2005MY TFs received one - too little, too late), and the exposed mechanism of the single skinned hood looks a little quaint - but don't let that put you off. Not at the money these cars are now fetching...
Verdict
The MGFhas developed a bit of a reputation for being a nail-technician's car - and we're not entirely sure why. After all, it's a good drive and you can't depend on it as a day to day conveyance (just Google the term 'MGF breakdown' if you don't believe us. As 1990s cars go, this is probably as close as you'll get to a fully-fledged classic car right now, because an MGF needs constant care and attention - you cannot just get in and thrash it in the way you can, say, a Mazda MX-5 - and for those who do, MGF ownership is a frustrating and ultimately expensive experience.
At today's prices, it's something of a steal too - as long as you find a loved one that you know has been in the hands of an understanding owner. And you have access to a specialist who knows their way round an MGF. If you do, and you can live with its peccadilloes, then you'll enjoy a car that is quite outstanding in what it can do considering the parts that went into it.
If not, walk away and don't look back... we'll understand completely.

Ultra-modern when launched, but in many ways harking back to the style pioneered by the rubber-bumpered MGB...
Back: Model Timeline
Next: Buying Guide
Compare classic car insurance quotes and buy online. A friendly service offering access to a range of policies and benefits.

Get a quote