Honda S2000 (1999 - 2009)
Last updated 2 July 2018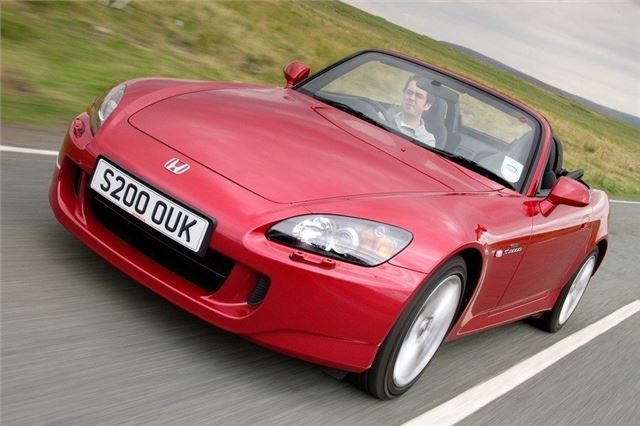 Model Timeline
February 1999
Two-seater roadster with astonishing 2.0 litre 237 bhp VTi engine that revs to 9,000 rpm, allied to six-speed box.
4,135mm (13' 7") long x 1,750mm (5' 9") wide.
S2000GT comes with a removable hardtop for an extra £1,000.
April 2004
Improvements for 2004 include 17" wheels, triple beam projector headlights, revised interior and many changes to the response and handling of the car. S2000 priced £26,500; S2000GT £27,500.
July 2007
2007 model a much better car. Excellent digital speedo/rev counter. More steering feel. And power no longer comes in three steps, but is delivered in a linear surge.

02-02-2008: S2000 refreshed for 2008, on sale from February with new suspension settings to make the iconic two-seater more communicative, predictable and exhilarating to drive. New set-up is identical Japanese S2000 Type-S. Re-tuned dampers, uprated springs and thicker anti-roll bars give the car greater stability, agile handling and more responsive steering, to help harness the S2000's high-revving 240PS 2.0-litre i-VTEC engine. Also new design 17-inch 5-spoke alloy wheels and new paint colour – Synchro Silver.
Three new leather interiors to choose from – Black with red stitching, Brown with red stitching and Red with black sides. There is also a design change to the headrest frame which has been re-shaped to offer greater roll-over protection*. 2008 model priced from £28,050 for the Roadster and £28,600 for the GT model with detachable hardtop.

30-1-2009: 100 runout 'Edition 100' roadsters to be sold in the UK. It will retain its highly acclaimed 2.0 litre 9,000rpm VTEC engine and combines it with a Grand Prix White body and graphite effect alloy wheels. The paint job evokes memories of Honda's first F1 car from 1964. Inside, red leather interior, red stitching on the gear lever gaiter and aluminium gear knob that's unique to the model, complete the racing look. Edition 100 models will be marked out by their individual numbered plaques on the kick-plates, denoting their position in the final series.

Since its introduction, Honda sold 110,673 S2000 worldwide – 7,898 of those in the UK. The Edition 100 was be on display at Geneva Motor Show 2009. Prices started from £29,086.
Back: Introduction
Next: Buying Guide