BMW 3-series E46 (1998 - 2005)
Last updated 4 February 2019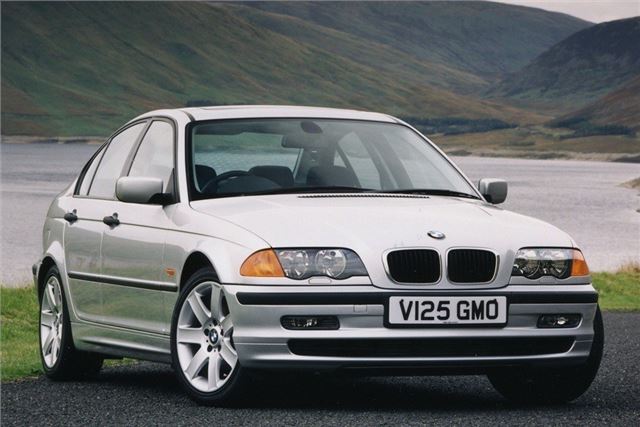 Model Timeline
More comfortable and refined than E36. 14' 8" long by 5' 8" wide and weighing 1,360kg to 1,500kg. Good body control. 'Cornering Brake Control' makes it very safe. Coupes have 60/40 split folding rear seatbacks as standard. Up to 193 bhp in standard range at 1998 launch, but progressive update programme meant that 328i was replaced by 231 bhp 330i in UK in July 2000. All have steel bore liners eliminating problems of previous Nikasil-lined all-alloy blocks. Same 2.0 litre direct injected diesel as Rover 75, initially with 136 bhp instead of Rover's 116 bhp, later raised to 150bhp (see below). Excellent secondary safety features. 

2-door CI version arrived in spring 1999; Touring in autumn 1999; 325i cabrio in spring 2000. Cabrio has very little 'scuttle shake'. 

184 bhp 330D was rated by Stephen Sutcliffe of Autocar in 2000 as "the best 3-Series, period": offered the best combination of performance, handlng and fuel economy in the business (top speed 143 mph, as timed by French police near Montpellier with Jenson Button driving). 

2-door M3 boasts 340 bhp and is fun to drive with the traction control turned off. Almost as quick on a twisting road as a Mitsubishi Lancer EVO V1. But sharp clutch and lack of torqe at low revs requires skill to manage. 

Suspension and steering improvements from April 2001 build (steering lock to lock reduced from 3.2 to 2.9 turns). 320 gained new 170bhp 2,171cc six in September 2000. 

12-09-2001: Facelift September 2001 with upswept rather than downswept front indicator lenses. Underpowered 1.9 litre engine of 318i saloon replaced by new British built 143bhp 2.0 litre NG4 unit as from September 2001 facelift. This engine is also more economical with lower CO2 emissions of 175g/km making it a better proposition for company car drivers. Air-conditioning standard across range from September 2001 facelift, plus sharper steering and uprated suspension for coupes. Facelift 320d got a power boost from 136bhp to 150bhp, with a more serious torque hike from 207 lb ft (280Nm) to 243lb ft (330Nm) at 2,000rpm. combined fuel consumption improved to an excellent 51.4mpg and CO2 emissions 153g/km (auto 185g/km). UK prices started at £21,415 including standard air-conditioning and insurance is Group 13E, but before the 2003 facelift and 6-speed box. Trade Sales had 320dSEs for £19,999. 

Improved unlimited mileage two year full manufacturer warranty followed by one year full dealer warranty from November 2001, making total three year unlimited mileage warranty. 

12-04-2002: E46 316i saloon and Touring models re-launched April 2002 with same UK built N42 1,796cc 115bhp Valvetronic engine as the new Compact. New engine offers 175Nm torque, 0-60 in 10.6 seconds, a top speed of 128 mph, combined consumption of 39.8mpg and CO2 emissions of 172g/km with the manual box. Touring is a bit slower and thirstier with 0-60 in 10.9 seconds, top speed 125mph, combined consumption 38.7 and CO2 emissions 177g/km. List prices are: £18,450 and £19,470 for the SE. Automatics are £19,685 and £20,705 for the SE. The Touring only comes as an SE and prices are £20,440 for the manual; £21,675 for the automatic. ABI Insurance group is 12E for all. 

10-01-2003: Coupe got wider grille facelift similar to saloon in early 2003. Spec changes from week 9 2003 production (Feb, so just in time for March 03 reg) include 6-speed manual gearbox and dynamic stability control as standard. Diesels grow to 204bhp offering 0-60 in 6.9 seconds, top speed 149mph yet low 177g/km CO2 and 43.5mpg. 330Cd coupe with 215bhp, but not in UK with RHD until 2004. Sequential 5-speed electric clutch SSG box available on 330CI from Feb 2003 at £960 extra. 

20-08-2003: M3 CSL in UK from August 2003 at £58,455. 110kg lighter than standard M3 (by losing ICE and aircon) and 17bhp more powerful at 360bhp. With SMG box does 0-60 in 4.7 seconds and is limited to 155mph top speed, but racing licence holders can have it de-limited to top 175mph. 

22-10-2003: Euro 4 compliant 320Cd coupe from October 2003 has 150bhp 2.0 litre diesel offering 137mph, 0-60 in 8.5 seconds, 49,6mpg combined and 153g/km CO2; price £24,310 (base) and £26,620 (Sport). Euro 4 compliant 204bhp 330d saloon, tourer and coupe to arrive March 2004. 320d Euro IV compliant from 1st September 2003, priced 320d £20,995; 320dSE £22,980. New 318d from February 2004 with basically the same 115bhp 1,995cc common rail diesel as the Rover 75 CDT and LandRover Freelander. Priced from £19,995 for the ES 4-door saloon. Does 127mph, 0-60 in 10.3, 50.4mpg and 151g/km CO2. 

03-09-2004: Run-out models from September 2004 come with free option of metallic paint, 17" alloys and M-Tech bodykit. Which? used best buy £15,000 - £20,000 2004. Came 14th from top in 2005 JD Power/What Car Survey of 23,000 cars reg Sep 2002 to Aug 2003 with satisfaction score of 82.9%.
Back: Introduction
Next: Buying Guide
Buy a BMW 3 Series from £3,000
Compare classic car insurance quotes and buy online. A friendly service offering access to a range of policies and benefits.

Get a quote