Volkswagen 411 and 412 (1968 - 1974)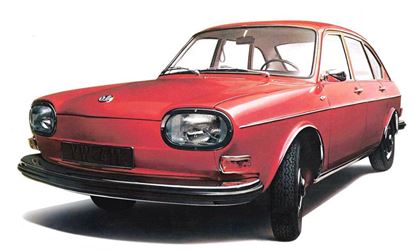 412
reviewed by Anonymous on 14 April 2019
4
How you rate the manufacturer
Under rated in it's day!
I owned two 1974 estate (wagons) in the early 1980s. One was automatic, the later one had a 4-speed manual. Your introduction is wrong, as the Type 4 wasn't a stretch Type 3 which was a body on platform/chassis assembly the same as the Beetle. Instead it was VW's first unibody construction. Front disc brakes weren't the only improvement, fuel injection was standard on Type 4s in North America at a time when the big Detroit three hadn't even heard of the technology.

Unlike the Beetle it had flow through ventilation, and thermostatically controlled booster fan/gas heater which meant it was easy to keep the car warm and windows clear of internal moisture. (a big problem on Beetles). The front doors had a single pane of glass, notched along the front edge - which was exposed when the window was lowered an inch or so, to replace the vent windows that were common in most cars including the Beetle and Type 3. Big comfy front seats, the bottoms of which tilted up. Oddly the battery was under the passenger seat. And a huge luggage compartment under the front hood.

Yes, it was VW's version of an Edsel - selling poorly due to the premium price ($3299 when a new Beetle cost about two grand). And it didn't have any modern amenities (A/C, or power anything) or even a tach. But it was big and spacious, like the B3 Passat, but long before it. Living in southern Ontario, Canada, where a lot of salt was used on winter roads it was prone to rust inside the fenders, but this was in the day when fender liners didn't exist. The same era Fords and other domestic and Japanese products similarly fell prone to the rust cancer.

All in all I have fond memories of this vehicle, and in recent years have owned both a 2004 B5.5 Passat wagon, and currently a 2018 VW Golf "sportswagen" with 4motion AWD. I attribute the Type 4 as the roots to these modern machines and thank VW for continuing to make estate wagons, in an era when SUVs are ubiquitous to a fault.
Write your review
About this car
| | |
| --- | --- |
| Top speed | 96 mph |
| 0-60 | 17.0 s |
| Power | 80 bhp |
Just reviewed...