Toyota Celica (1989 - 1993)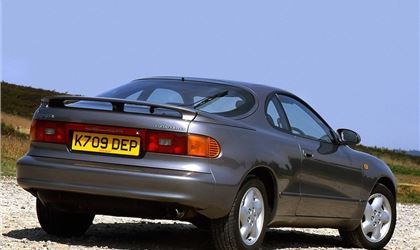 Toyota Celica 2.0 Gti 16v
reviewed by tigerquain on 10 June 2015
4
How you rate the manufacturer
Wow we!
What a bargin. What a sports car. I have only owned this car for two weeks and can't get over how amazing it is. Yes amazing. 114000 miles on the clock. Rust? 0, yes 0 rust. I paid £720 pounds for it. Red paint was faded and lots of little scratches and chips, black missing from wipers, its wheels scuffed and dirty. It looked like a 24 year old car but I could see the diamond underneath the old marks of time. I wemt nto Halfords and spent £60 on cleaning products. I spent the weekend cleaning and touching up painting. Result? A NEW CAR! My teenage daughter fell in love with the car.my teenage nephew just said wow is that your car. I had spent in all,tax first installment of insurance £1000 to get a classic on the road. Drives beautifully, just along very happily at 2000/3000 revs, until you send the revs to 5/6000 then you have a fast Gti on your hands that corners flat. I love this car. I am so lucky I found it.
reviewed by BelgianRM on 23 November 2011
reviewed by nat04u on 29 June 2010
Write your review
Just reviewed...