Renault 19 (1988 - 1996)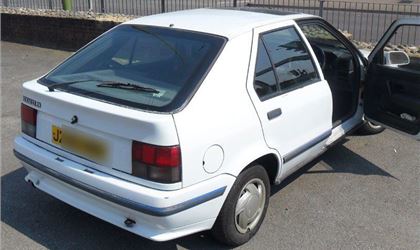 1.4 GTS-X
reviewed by mardigras on 24 November 2020
4
Cost of maintenance and repairs
4
Experience at the garage or specialist
5
How you rate the manufacturer
Something a bit different
I originally wrote this review in 2014 and as I still have the car I thought I'd update it. The GTS-X is a late phase 1 special edition of sorts. It has the 1.4 Energy engine, a few styling tweaks and has the 1980s black interior with striped seats which I really like. For me it is an extremely comfortable and enjoyable car to drive. It is also very practical and looks good I think.

Mine is not a cherished example. I keep it roadworthy and clean it once and a while. For me I enjoy the originality but at some point a light restoration will be needed especially on the bodywork. I've had some welding done on the sills and one of the rear wheel arches was replaced due to rust. The rest of it is starting to go now but you'd be surprised how solid the chassis still is after almost 30 years outside in British weather.

Overall it is very reliable but I am living with a number of faults:

- The gear selector gets stuck sometimes and you can't select a gear. This is solved by rocking the car back and forth a few times but this does need investigation.
- The clutch release bearing (I think) is worn out, it squeals when pulling away.
- She's a bit clunky at low speeds. This could be a worn-out engine mount.
- The engine will conk out sometimes at the lights.
- Various electrical things are broken including the fuel sender, rear wash/wipe, the intermittent wiper setting, the rear demister and the electric sunroof mechanism.

All of these will be addressed at some point and I know I've got to sink a few thousand into it.

These are quite conventional cars so don't be afraid to take one on. Mechanical parts are still easy to get hold of and the engine bay is quite spacious with plenty of room to work.

This car is a survivor and I have no plans to part with it.
reviewed by KCSRenault on 27 May 2015
reviewed by Renault18 on 20 May 2015
reviewed by KCSRenault on 19 May 2015
Write your review
Just reviewed...