Techno-Classica 2013: Gallery of Volkswagen Group's exhibits
The largest of Essen's 20 halls were reserved for thee Volkswagen Group, which showed off cars from several of its collections including Autostadt and Audi Tradition. There were cars from Volkswagen, Audi, Skoda, SEAT, Bugatti, Bentley and Lamborghini on display - but it was the more humble cars that generally attracted our attention
The biggest event within the group was the 50th birthday of the 911, but on the Porsche's stand, there were but four 911 models to demonstrate how the car has evolved over the years. One was a mid-Porsche Classic restoration - but overall, a disappointing display. Not that it mattered too much, as there were hundreds of 911s elsewhere in Essen. Other nice touches were Volkswagen's display of contrasting cars, and Skoda and SEAT's beautifully-kept examples of long-forgotten cars from their dim and distant past.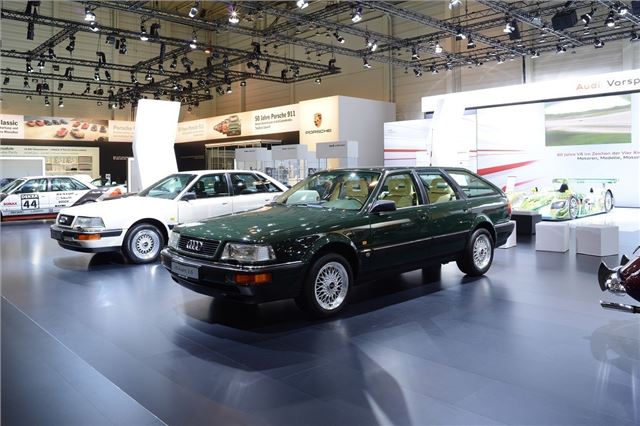 7


In 1988, Audi launched its ambitious new four-wheel drive flagship, the V8. It boasted a new 3.6-litre engine and quattro drivetrain, and its maaker hoped it would take on the established plutocrat motors from Mercedes-Benz and BMW. Sadly, sales were slow, most notably it was hamstrung because it looked too similar to the more lowly 100/200 range.
Audi's boss Ferdinand Karl Piëch decided it wasn't enough, and had a one-off Avant five-door version especially built for his personal use. And today it's still owned by Audi Tradition.
Comments