A Grand Monday: Ford Cougar V6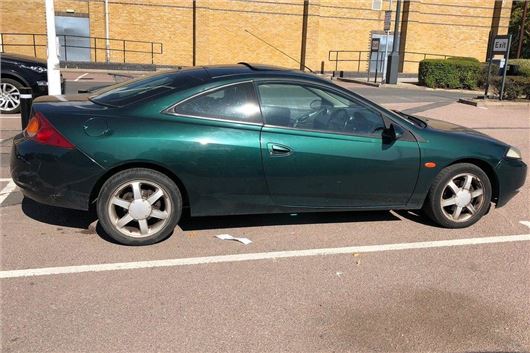 Published 07 October 2019
Since the demise of the Capri in the mid-1980s, Ford had been left with something of a gap in its line-up. It initially tried to fill the space with the Mazda MX-6-based Probe – but we all know how that story goes so let's not dwell. Luckily, Ford's second attempt at resurrecting the 'car you always promised yourself' was better.
Based on the fine-handling Mondeo, 1998's Cougar arrived with much fanfare with the covers coming off at that year's British Grand Prix at Silverstone. It was a one-two punch, the follow-up coming in the form of a high-profile advert featuring reformed Hollywood hellraiser Dennis Hopper.
Yep, shortly after we saw Steve McQueen driving a Ford Puma, we then got to see Hopper come face to face with his seminal character 'Billy' – the Harley-riding philosophizing hippie from the film Easy Rider who goes on a drug-fuelled motorcycle cross-country trip 'in search of America'.
If you're fans of the film, you'll know that Billy's quest for freedom and happiness ends with his abrupt death at hands of random and intolerant truckers. The movie's most poignant piece of dialogue - 'We blew it' - is a statement on how a generation of young people tried hard – but ultimately failed – to bring about real change. So I guess that makes the Cougar a car for the people who thought they could change the world but in the end settled for the status quo… and drive a silver coupe with lots of bootspace and a tow ball.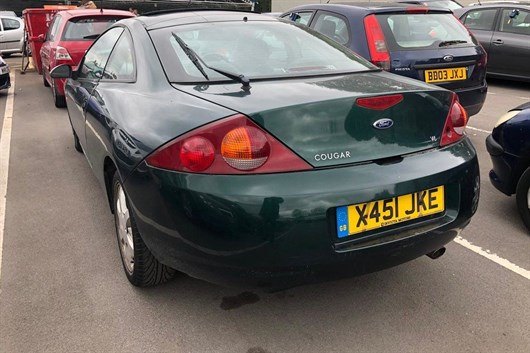 Twenty years, later the Cougar is now a bit of a hidden gem. In fact, we reckon it's a proper future classic. Okay, so inside, you'll find plenty of plastic of different flavours, but you'll also find things like traction control, CD player and air-conditioning. At the time, this was where the Cougar's USP fell apart. It looked great and was utterly fabulous to drive, but it was almost too practical and not very quick… things you don't really want from your coupe (see the Alfa GTV 3.0 V6 or the Fiat Coupe 20v for reference).
Today, these cars still handle brilliantly with plenty of grip, loads of steering feedback, and excellent driving position. There was plenty of power, too. Under the bonnet was the engine from the Ford ST24, with 168bhp. It makes a nice noise and isn't too thirsty, which is handy with today's pump prices.
This example we've spotted in the classifieds looks like a fine specimen. It's a 2000 Ford Cougar 2.5-litre V6 automatic for £995. It's had one owner from new and comes with full-service history and generally looks like it's in pretty good nick. And it comes with all its documents and what seems to be a new(ish) set of tyres.
We know what you're thinking, 'Isn't nearly a grand quite a lot of money for a Cougar?' Not these days. Twenty years after they first hit the roads, they're starting to attract plenty of interest from younger enthusiasts. We can't think of another Ford-badged V6 two-door coupe that you can get for this price.
Comments
Author

Keith Moody
Latest