Future Classic Friday: Citroën Xsara Picasso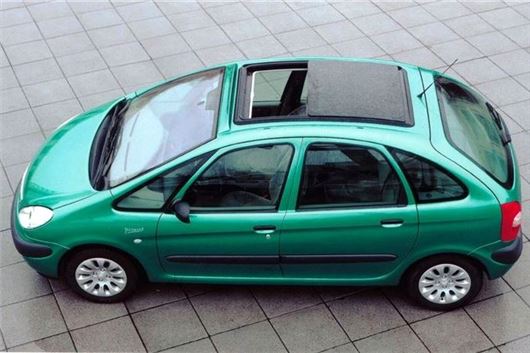 Published 05 October 2018
Naming a car after an artist famed for his rather unorthodox approach to the visual arts was something that only Citroën could really get away, despite the brand's model line-up in the 1990s being about as far from weird as it ever had been.
Indeed, with the Saxo, Xsara and Synergie making up the bulk of European sales, it was only the wedge-shaped Xantia that had any of the brand's traditional lack of convention left. But in a market dominated by cars such as the Ford Mondeo and Vauxhall Vectra, its defiant approach to the basics of a family car did it more harm than good.
Citroën enthusiasts loved it, of course, even when the company rounded-off the corners and did away with the up-and-down suspension, but that wasn't enough to keep it from being (in petrol-engined form at least) Britain's fastest-depreciating car for many years. A mantle it held until it it passed the baton on to its successor, the C5, which was hardly the eulogy it deserved.
Yet despite this, the late Nineties were a boom period for Citroën. This was in part due to the popularity of the Saxo with young drivers, but also down to one other car – a car that may have been as ordinary as most of its rivals under the skin, but saw a welcome return to styling weirdness.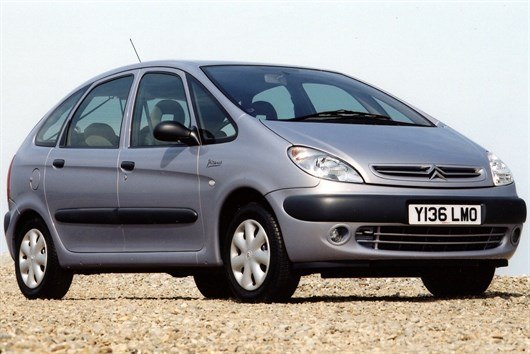 The Xsara Picasso was introduced in 1999, as Citroën's addition to the rapidly burgeoning compact MPV sector, created by arch-rival Renault with its Megane Scenic two years earlier.
Just as the Scenic was based on the platform and running gear of the standard Megane, the Picasso's undercarriage was pretty much identical to the Citroën Xsara and Peugeot 306 hatchbacks, which used Peugeot's perennially popular mid-size compact car platforms and a range of ageing but dependable engines. 
But unlike any of its rivals (apart from, of course, the even more bizarre Fiat Multipla), the Picasso looked like nothing else on the road.
In order to make a play of its unusual approach to building a really quite conventional car, Citroën approached the Picasso family to see if they would allow them to license the famous artist's name. We're not sure how much money changed hands, but Pablo's son, Claude, subsequently entered into an embittered legal battle with his half-sister, Maya, who said that the move would cheapen the Picasso name in the art world.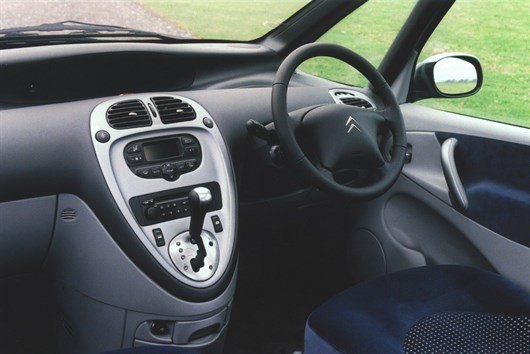 It was largely a result of a long-running feud between Claude, who was the son of Picasso's mistress, and his two half-sisters over control of the Picasso family's substantial wealth, and while they aren't substantiated, there are suggestions that Picasso's own connections to the Citroën family from earlier in the 20thcentury helped smooth things over in the legal system.
Certainly, the company didn't shy away from the connection in its marketing, with a high-profile TV ad campaign featuring the car's assembly line robots spraying the cars in all manner of unusual ways, and signing off with the famous artist's signature. 
The Xsara Picasso, then, was marketed as weird from the outset, which somehow made its fish-like looks somehow forgivable. It was never a car that you could call pretty, but that did little to impact sales, with it fast-overtaking the Megane Scenic to sit on top of the compact MPV sales charts, where it remained despite being only a five-seater and facing stiff competition from the Vauxhall Zafira, Ford Focus C-MAX and a raft of Japanese rivals such as the Mazda Premacy, Nissan Almera Tino and Toyota Corolla Verso. 
Admittedly, Citroën stacked them high and sold them cheap – it was the company's go-to-market strategy in the early 2000s, with zero VAT deals and cashback to buyers who acquired one on finance, but that did wonders for Citroën's market share and brand awareness at a time where such things were considered massively important in the new car market.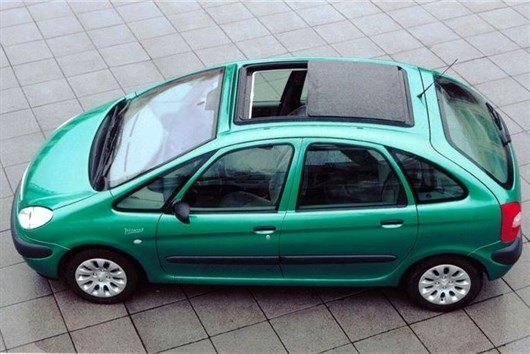 So, was it any good? Well, it was certainly different. Its space-age dashboard, plethora of storage compartments and 'dining chair' driving position made it a hit with young families, especially when, for no deposit and £200 a month, you could be assured a new one in your drive every couple of years. As a line on the household budget, the Picasso made a lot of sense to a lot of people.
As, indeed, did the running costs, with the 2.0 HDi model promising almost 70mpg, and the petrol variants hugely undercutting most of their rivals on list price beforeCitroën knocked the VAT and gave you £1,500 back before you drove it out of the showroom. It was a successful formula, and one that saw it survive for three years after it had technically been replaced by the C4 Picasso as there was still an appetite for it among certain buyers. Over 1.7-million were sold, which made it a very successful car.
Cars that achieve such popularity often become classics by default, driven by nostalgia and their very popularity, but the Picasso is no Ford Escort, despite buying into its suburban heartland back in its heyday. To preserve one, you really have to love it, and there aren't many people that do, which means their numbers are currently in freefall. 
Many have succumbed to rampant sill corrosion (they all do that, sir…), while others have fallen victim to missed finance payments and general neglect, which means that very soon – and sooner than you might think – the Picasso's ubiquity will cease to exist. Then, and only then, will there be any classic interest, so don't think for a minute that we're tipping this one as an investment opportunity. It isn't. But as a car that defined its era and was very popular with families across the nation, it was an admirable workhorse, and one day there'll be next to none left. Surely someone needs to preserve a handful of the best examples, if only so that future generations can see how Citroën hadn't forgotten how to be weird, after all?
Comments
Author

Craig Cheetham
Latest