Future Classic Friday: SMART Roadster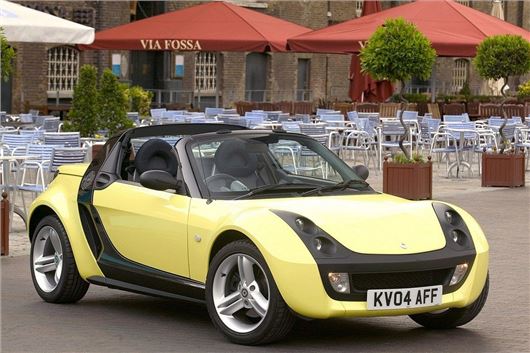 Published 27 July 2018
The concept of an affordable, pocket-sized sports car has always had plenty of appeal, but since the demise of the MG Midget in 1981, there wasn't really anything to serve the buyer who wanted a roadster that was smaller and cheaper than a Mazda MX-5 or MG TF, other than quirky oddities such as the Suzuki Cappucino and Honda Beat. 
But all that changed in 2002, with the introduction of the SMART Roadster. Based on an extended SMART ForTwo platform, the Roadster was a rear-engined, rear-wheel-drive two seater, using a different version of the car's 'Tridion' bodyshell. The concept was similar – detachable fibreglass panels, an integral safety cell and a small capacity turbocharged engine with semi-automatic transmission.
It debuted at the 2002 Paris Motor Show, after a three-year gestation period that saw several people lead the development project after SMART design director Jens Manske left to work for Volkswagen Group. Manske was replaced by Michael Mauer, who became the design face of the original SMART City Coupe, but by the time the Roadster was launched he, too, had left – this time poached by SAAB. His replacement, Hartmut Sinkwitz, was tasked with bringing the Roadster to fruition in record time – just nine months from joining the company to the car making its public debut, by which time the design had been through multiple changes.
A car designed by committee isn't always a good thing, but in the case of the SMART Roadster, the awkward gestation wasn't the disaster it could have been. Indeed, the new model gained critical acclaim, with contemporary pundits praising its proportions and its clever detachable roof, which made it as much of a coupe as a convertible. Indeed, both Targa and 'Roadster-Coupe' versions were offered, with different topless options. 
Thanks to the Tridion safety shell, taking the roof off had no effect on its structural rigidity, and as a result the Roadster was impressively free of scuttle shake and body flex that are always the biggest challenge with a sports car. Indeed, some commentators described it as feeling like a budget Lotus Elise, which was very much the sports car of the moment back in the early 2000s.
It wasn't especially quick – it used the same 80bhp three-cylinder 698cc 'Suprex' engine as the ForTwo, while a less powerful 60bhp version also existed, but sold in minimal numbers. After all, a sports car with a 0-60 tine of 15.0 seconds didn't really do what it said on the tin.  
The 80bhp version was no rocket, either. 0-60 took 10.6 seconds, but it was capable enough in modern traffic, and the agile chassis meant you didn't really need to slow down for bends, while the trade-off for the less than scintillating performance was 55mpg fuel economy and low road tax, in keeping with the notion of it being a budget sports car. 
In 2003, a BRABUS version arrived, with a power increase to 101bhp, exclusive 17-inch alloys, sports exhaust, stiffer suspension and bespoke leather trim. It was terrific to drive in the right environment, but was harshly sprung and over-firm for British roads. Coupled to a steep price tag – a fiver shy of £17k – the BRABUS Roadster was very much a niche product, though those who own them love them.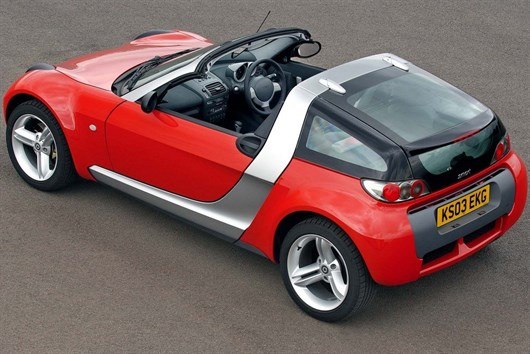 The SMART Roadster, then, is a fascinating car. One that is fundamentally flawed by virtue of its low power output and frankly irritating gearbox, but gains back brownie points thanks to its hugely entertaining handling and beguilingly cute looks. 
It was a car that brought back the notion of an affordable micro sports car, and for that reason alone it should be celebrated. It has its fans, too – even at 15 years old, early cars are still worth upwards of £2,000, with the very last 'Finale' editions from 2007 worth up to four times that. 
Apart from water leaks into the cabin, they're pretty hardy beasts, though the engines themselves tend to suffer after 100,000 miles – the flipside being that a replacement engine is both a relatively affordable and quite easy repair, unlike practically any other car. It was part of SMART's original design philosophy to make the cars easy to own, even when worn out, and it still rings true today. 
Quirky, unusual and fun, the SMART Roadster has future classic written all over it. Now is the time to buy… 
Comments
Author

Craig Cheetham
Latest
Compare classic car insurance quotes and buy online. A friendly service offering access to a range of policies and benefits.

Get a quote