Future Classic Friday: Volkswagen Phaeton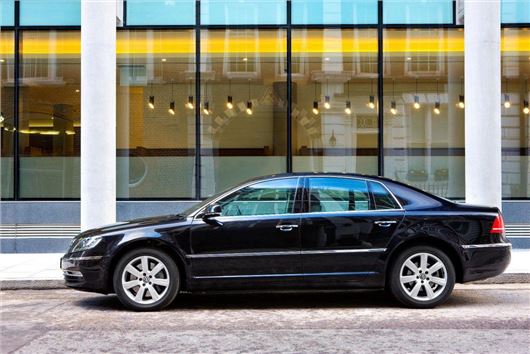 Published 29 June 2018
Back in the early 2000s, Volkswagen was a company that was going from strength-to-strength. Its Mk4 Golf, new Polo, and recently revised Passat were all strong models in their segments. And their high perceived build quality and distinctive blue dashboard lights marked them out as a cut above the norm.
But there were other brands trying to steal their thunder. Chief among them was Mercedes, which had recently introduced its new A-class. Elk test fiasco aside, the new mini-Mercedes was a desirable and well-packaged car, priced to compete bang in the Volkswagen heartland. 
With the Golf enjoying a slightly premium image, VW Group chief Ferdinand Piech was looking to expand the Volkswagen empire, and Mercedes seemed like a likely target. Hence, the idea of a luxury Volkswagen was put on the table.
There was already a premium saloon in the Group stable, of course, in the form of the Audi A8, but whereas the A8 and the BMW 7-Series were viewed as luxury models with a sporting temperament, Piech reckoned there was a gap in the market for a posh VW model focused on ride comfort and quality. A car that would step away from Audi and BMW, and compete on a level with the Mercedes-Benz S-Class and Jaguar XJ.
It was a bold sentiment, and one that was certainly ambitious. But VW had the weapons in its armoury to make a fight of it.
Instead of building the car on the (expensive) aluminium A8 superstructure, VW instead decided to make the Phaeton up on the platform of the Bentley Continental GT and Flying Spur. It was, therefore, a much heavier car than the Audi, weighing in up to 545kg more on the scales. But that also allowed it to use several parts from the Bentley parts bin, notably the W12 engine, along with the 5.0-litre V10 diesel from the Touareg SUV, with which it shared several key components. 
These models were, of course, the flagships of the Phaeton range, and those that found favour with chauffeur companies and executive airport hire firms were lesser beasts, with 3.2-litre V6, 4.2-litre V8 or 3.0-litre V6 diesel powerplants... but all were more than adequate in terms of grunt and comfort. Even the 3.2 V6 felt fast enough, with a DSG gearbox and excellent levels of standard equipment.
As a standalone car, then, the Phaeton was a very good vehicle. Comfortable, well-made and very pleasant to drive (and be driven in). But the market never reconciled itself with the concept. Did Volkswagen want to make the Fox city car or the limo like Phaeton? Was it selling cars for £7k or £70k?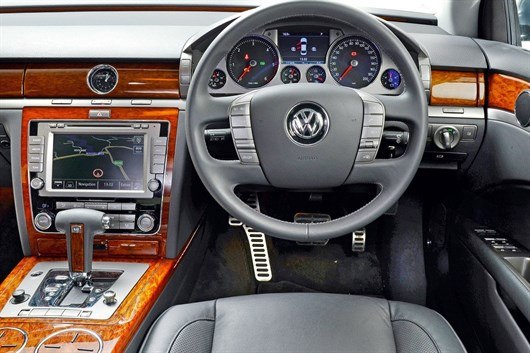 The timing couldn't have been worse. When it came out in 2002, the mainstream exec market was in mass retreat. The Vauxhall Omega and Peugeot 607 were on life support, the Ford Scorpio was dead, and the public perception was that Volkswagen was too 'mass market' to really cut it in the exclusive exec market. Buyers, it seemed, would rather have the cachet of a smaller BMW 5-series than spend the same money on a bigger Phaeton, leading to slow sales in the UK.
Those that did sign up got a nice car, and one that was a bit of a hidden gem. But they were also hit by crippling depreciation and a somewhat incongruous image, that of extreme luxury coupled to a brand that, quite literally, was a car for the people.
As a used car, then, the Phaeton actually made a lot of sense. But as a new one, it made very little, and that accounts for its rarity today.
But its obscurity is no reason to discount one. Mechanically, it's all stock VW Group parts, and reliability is pretty good. Parts availability is still fine, and the best thing is you can pick one up for less than £2k. At that price, the Phaeton may prove hard to resist, especially in one of the more unusual W12 or V10 diesel configurations.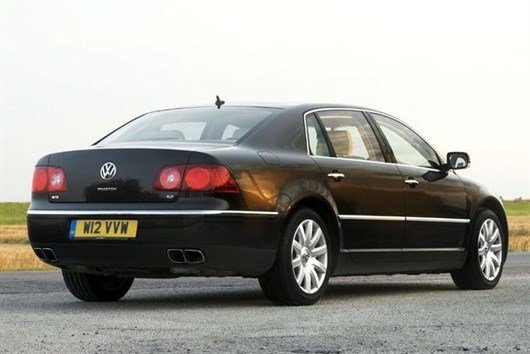 Yes, it's an oddball. But it's an oddball you can buy with a degree of confidence that it's not so obscure that you won't be able to keep it going. Cheap luxury cars don't come with a better CV. 
Will it be a classic? Who knows? Chances are, the Phaeton still has a way to go before it piques the interest of collectors, but for those of us who love a cheap and enjoyable luxury barge, there are few better places to look right now. Enjoy it while it lasts… 
Comments
Author

Craig Cheetham
Latest
Compare classic car insurance quotes and buy online. A friendly service offering access to a range of policies and benefits.

Get a quote