Future Classic Friday: Alfa Romeo Spider and GTV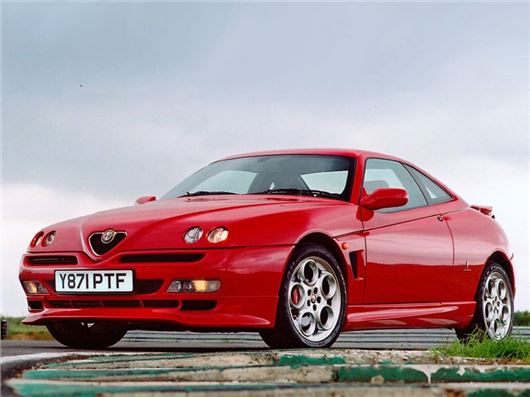 Published 27 April 2018
Replacing an icon is a tricky thing to do, so when Alfa Romeo finally put the original Spider out to pasture in 1993, an astonishing 30 years since its debut, a replacement was always going to have to be something a bit special.
It came as a surprise, then, when the new '916' generation was launched in 1995 with front-wheel-drive – something that Alfa aficionados were initially quite sceptical about.
Launched in tandem with a coupe model, the GTV, which also recalled a name associated with past glories, the newcomer also happened to be one of the most engaging Alfas yet.
For starters, it looked sensational. A wedge-shaped profile with a distinctive styling crease that ran the full length of the body gave it a purposeful appearance, while the delicate heart-shaped grille and beady headlights added a cheeky yet slightly mean-looking face. The rear lights, meanwhile, were part of a bigger styling feature, with a ribbon of red across the back of the car echoing the look of the iconic Alfa SZ.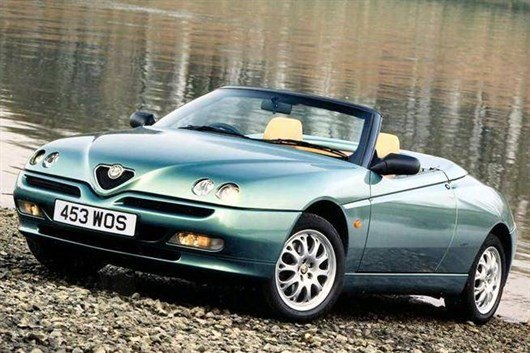 The cabin was intimately styled, too, with distinctive hooded dials, triple central air vents and a neat, bulbous gear knob that had a tactile, mechanical feel to it. It wasn't especially well thrown together of course, but hey, it's an Alfa. Nobody buys an Alfa for its interior plastics, and a 916 Spider or GTV was always going to deliver a more sensual driving experience than any of the German coupes it shared market space with – even the excellent BMW 318iS.
The GTV, with its closed roof and stiffer body, was particularly rewarding to drive, with ultra-sharp steering (just over two turns from lock-to-lock) and a beautifully balanced chassis, while V6 models were truly glorious, with an engine note that added a sense of occasion to an already rewarding drive.
That sense of occasion, from the 3.0-litre 'Busso' engine, wasn't just its power or its aural reward, either – if an engine is designed to look beautiful, you know its manufacturer is proud of it, and the V6's polished inlet pipes and red detailing are as much a part of the car's design as its bodywork and interior. It's details like this that make any Alfa Romeo special – a V6 GTV or Spider even more so.
The other power unit was a 2.0-litre Twin Spark, which had a similar power output to the 2.0-litre unit used in the Alfa 75 and 164, but was actually a completely different engine, with a Fiat block replacing the original all-alloy unit, driven by a cambelt rather than a chain.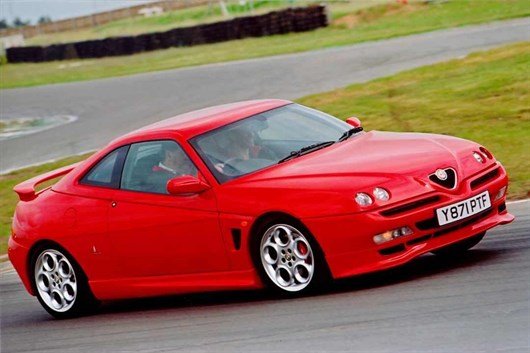 It was a cheaper unit to build, of course, but it was also plagued by a few reliability wobbles, with quite a few cars suffering premature cambelt failure and oil starvation. Later ones were much better, though, and the performance from the VVT 16-valve unit was impressive.
There were some gems aong the way, too. The 2001 GTV Cup, with its quadrafoil alloys, uprated suspension and sports exhaust was a particularly beguiling thing, while Lusso models came with the option of colour-themed leather that added a level of style that only an Italian company could muster.
The Spider and GTV were given a facelift in 2003 in line with the 156 and 166, with a bigger grille that dropped lower into the car's nose and a subtle rounding off of the edges. In fairness, the tweaks did make the car look more like a product of the 2000s instead of the 1990s, but at the same time some of the square-edged purity was lost. Today, the pre-facelift cars look more edgy, with the later ones fading amorphously into the background by comparison.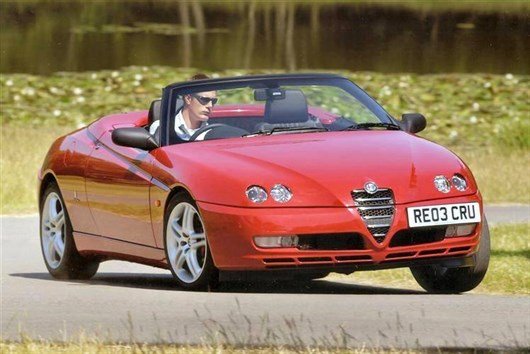 In terms of robustness, a well-maintained Spider or GTV will keep on going. They're good like that. But they're also old cars these days, and while they were far better protected from corrosion than Alfas of old, they do rot out around the rear of the sills and both subframes. Spiders also tend to get a bit leaky as the roofs deteriorate, and the only real option is to have the hood recovered, which will be a £500 job.
As old Alfa Romeos go, though, they're relatively trouble-free to own, and while you can pick up a serviceable example today for around £1000, or double that for a good one, the best examples are already starting to fetch good money. If you want one, now's the time…
Comments
Author

Craig Cheetham
Latest