A Grand Monday: Proton SE Aeroback
Published 20 March 2017
Something a little bit different for our Grand Monday feature this week. For the price of a domestic appliance (and finished in the same colour), here's an opportunity to own a car that, in its own peculiar way, is quite a significant vehicle in automotive history.
A launch specification Proton, known as the Saga in every market apart from the UK (where Saga is a subscription magazine and holiday company targeted at pensioners) it's an extremely rare survivor.
According to Honest John's How Many Survived index, there are less than 350 Protons of this era left on the road, and most of those are probably hanging onto life by a thread. But there's a compelling reason (we guess...) to save this one. It's a completely standard version of the original right-hand-drive Proton, Malaysia's first 'national car'.
Proton itself stands for Perusahaan Otomobil Nasional (National Automobile Company) and was the first vehicle to come out of a government-sponsored plan to make Malaysia a major player on the world automotive stage. Thank to a collaboration with Mitsubishi, the original Saga was more or less a carbon copy of the 1983 Lancer Fiore, with a choice of 1.3 or 1.5-litre Mitsubishi engines, both of which were considered lively and reliable.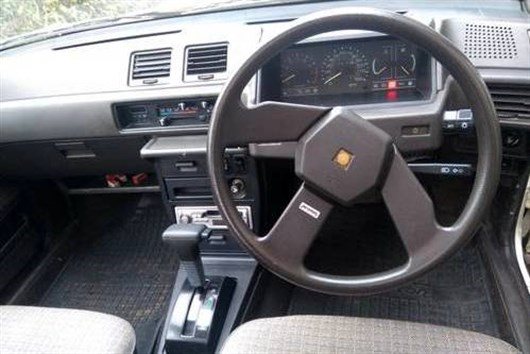 The very first Proton appeared in 1985, with exports beginning in 1989. Bizarrely, the UK became Proton's biggest export market - between 1989 and 1992, the brand became the fastest growing car marque in the UK, beating Lada, Skoda and Yugo in the budget market - and not without good reason. It may be a tad unspectacular to look at and extremely platicky inside, but (whisper it), the first generation Proton is actually tremendously good fun to drive. No, really...
From strong beginnings, Proton's fortunes have been mixed in recent years, and the brand is reportedly currently up for sale, after being privatised in 2012, when it withdrew from the UK market. But reports are rife that it could once again return to Europe as a brand to go head-to-head with Dacia, where it might have some success.
In the meantime, just £250 will buy you a road legal, MoT'd and slightly dog-eared example of Malaysia's only classic car. 26 years old, with just 70k on the clock, a tidy interior, automatic gears and one flaky wheelarch. Either restore it and own something completely different from the norm (a car rarer than a Lamborghini Gallardo, with added Mitsubishi reliability) or buy this as a daily and run it as is - you'll be surpised how much of a talking point it becomes...
Comments
Author

Craig Cheetham
Latest