A Grand Monday: Mazda 323 Turbo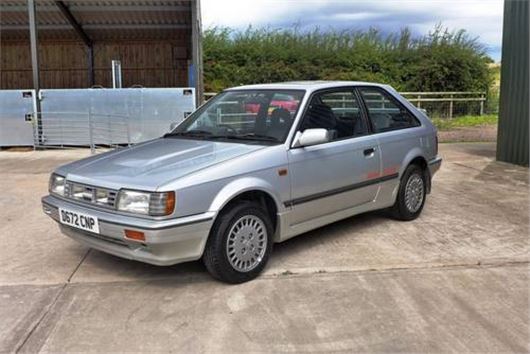 Published 15 September 2014
Sometimes we forget that Mazda has a pretty decent record in motorsport. The RX-7 was competitive in almost much anything it touched, the 787B took on the might of the Le Mans 24 hours and won, while the Mazda 323... well, that little shopping trolley found itself hurtling round many a rally stage in the late Eighties, much like its predecessor.
Launched way back in 1963, the first Mazda 323 Familia not only provided competent family transport but also found itself competing at Spa and the Nurburgring. Originally styled by a young Giorgetto Giugiaro while he was working at Bertone, by the time the fifth generation version came out it had lost its cute Sixties lines and adopted a more 'Euro box' look. Worse still, it had lost virtually all its sporting lineage.
No, the BF model, which ran from 1985-89, was never going to capture the imagination of red blooded petrolheads… unless you found a hairy, rally-inspired 4x4 Turbo, that is. Yep, that's right. When Mazda decided that it wanted to breathe life into its competitions department and go rallying in 1985, it used the 323 as the base for its Group A weapon. Sadly, the chances of finding one these days are pretty slim. After all, Mazda only built 500 of them and, according to the DVLA, there are only 11 left on the roads in the UK…
So we couldn't believe our eyes when we spotted this 1987 Mazda 323 4x4 Turbo in the sales catalogue for Brightwells next auction on 24 September, where it's expected to fetch an estimated £2000-£3000.
These homologation specials got a turbo-charged version of the fizzy 1.6-litre straight-four and a more sporty interior. With 149bhp available, it could hit 60mph from standstill in under eight seconds and boasted a 134mph top speed. But its secret weapon was super-sticky grip thanks to the full-time four-wheel drive system (complete with lockable differential). This, along with the race-inspired suspension, gave the car incredible handling. It even looked the part, too, with a sporty interior, a bodykit and some very racy decals.
According to Brightwells, this car was originally a dealer demonstrator before being bought by the current lady owner in May, 1987, when it was less than a month old. It was a daily driver for ten years, covering 42,400 miles and regularly looked after – it has nine stamps in the book up until 37,862 miles. After that, the car was put into storage where it remained for the next 16 years, although it seems to have been periodically moved to prevent the engine and brakes from seizing. Most importantly, it doesn't look to have any of the rust issues that have done away with its siblings.
As we're sure you'll agree, the car looks to be in great condition for its age and is very original. It comes with the handbook and two sets of keys. Could there be a better example left? We think you'd be hard-pressed to find one.
Mazda 323s - how many survived?
Find Mazda 323s in the classifieds
Comments
Author

Keith Moody
Latest