A Grand Monday: Citroen CX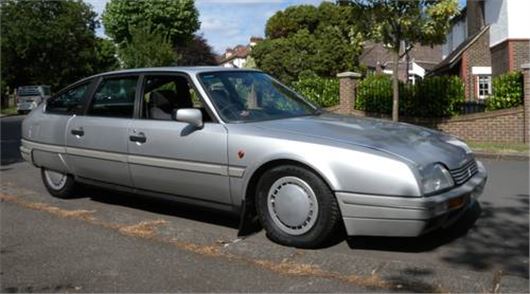 Published 01 September 2014
With the Citroen CX celebrating its 40th birthday this year, prices are already on the up – so finding a good one for fewer than two grand is getting difficult.
And the price rise is about time, really. So innovative and inspirational was Citroen's mid-size executive car that it won the coveted Car of the Year accolade in 1975 (one year after its 1974 launch).
Even today, it's low drag coefficient, clever suspension and raft of forward thinking features are appreciated by car enthusiasts everywhere.
We spotted this 1988 Citroen CX TRS 22 Croisette for sale at £2500 – sure, it's over our £1000-£2000 budget, but it only sold at Anglia Car Auctions' 5 April sale for £1700, so we reckon there's plenty of room to haggle.
Loaded with ABS, central locking, electric front windows, it also boasts rear sunshades and a Blaupunkt Cambridge radio/cassette player (although only the front speakers are working).
If you've never driven a CX, the assisted steering might take a little bit of getting used to – but once you've done a few miles, you'll be wondering why all cars aren't like this.
Another potential problem with these models is the hydropneumatic suspension, but thankfully on this car the seller tells us it works fine – as do all the electrics. Do double check the ABS works, though – it's a fairly common sight to see the ABS light lit up on the dash, normally due to a failed wheel sensor.
That should just leave you to check over the bodywork. If you're serious about buying it, the bonnet, boot and doors are the favourite grot spots, but CX's really can rot almost anywhere.
Next, you'll be looking to see if the car has been maintained properly - and this one definitely has. When it went under the hammer at Anglia Car Auctions, it came with a huge history file: 24 entries in the service book, 15 old MoT certificated, and 50-plus invoices totalling £10,800… plus a few from Portugal where the car used to spend its holidays.
There are few bad points, though. The advert tells us that the odometer is broken and the oil level gauge has stopped working.
You'll also want to check the rear arm bearings. If you can hear creaks from the back of the car (or if the wheels look like they're at an angle), then the bearings could be on their way out. This is an expensive job for a specialist to do and, while it is possible to do it at home, it could definitely test your tools and your patience.
Oh, and don't forget to inspect the tyres. Many CXs had 390mm diameter Michelin TRX tyres, which are still available but cost more than £300 a corner to repalce.
Comments
Author

Keith Moody
Latest