Top 6: Aston Martins for sale at H&H Auctions October sale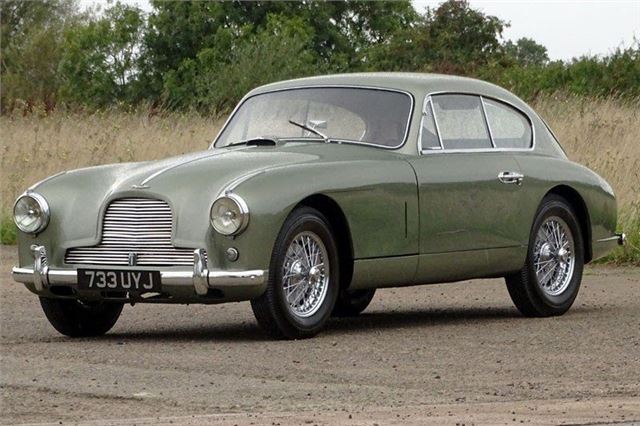 2


1954 Aston Martin DB2/4 Saloon in California Sage
This 1954 Aston DB2/4 was restored after being discovered dust-covered in a barn in Virginia, USA in 2008. Introduced at the October 1953 London Motor Show, the DB2/4 represented a new breed of longer-legged, more accommodating Aston Martin. It was some seven inches longer and a little taller than its predecessor with enough room for two small seats to be positioned above the back axle. Visually distinguished by a one-piece windscreen and rear hatchback, the new model boasted such niceties as a telescopic steering column and adjustable backrests.
Thanks to its 'Vantage' state of tune, the 2.6-litre unit was credited with developing some 125bhp and 144lbft of torque - outputs sufficient for a quoted 111mph top speed. Overshadowed by its racing DB3 / DB3S siblings, the model still enjoyed a successful competition career winning the team prize on the 1955 Monte Carlo Rally (interestingly, the factory also fielded a pair of DB2/4s for the Mille Miglia). Of the 565 MKIs made, just 448 are thought to have been two-door saloons.
Migrating to America sometime after 1964, the 2+2-seater was discovered by its previous keeper in a Virginian barn during 2008. Dust covered and obviously immobile for many years, the Aston Martin was subsequently entrusted to Francis Warwick of the Lea Francis Co in West Palm Beach, Florida (Mr Warwick's outfit specialises in the restoration of British marques). The result of all this refurbishment was apparently 'Best in Class' and 'Exceptional in Class' awards garnered at various American concours meetings. 
Further enhanced since entering the current UK-based ownership, the past year has seen chassis LML/664 treated to an estimated £60,000 worth of expenditure by marque specialist Oselli.
Estimate: £180,000–£220,000
Comments