Artcurial to auction a unique Ferrari 166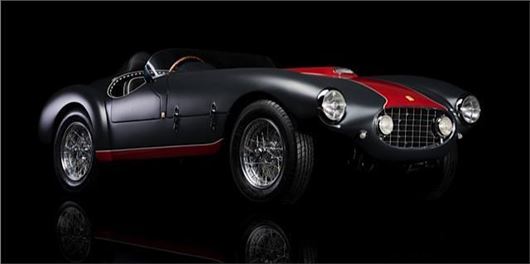 Published 23 July 2013
A unique 1953 Ferrari 166MM bodied by Oblin and packed with an amazing racing history will star in Artcurial Motorcars' Retromobile sale in Paris on 7 February 2014.
The car, chassis 0300M, has racing history in Europe and South America, including finishing third overall and first in class in the 1953 Liege-Rome-Liege rally. The car today retains its original chassis, drivetrain, engine and the unique body built by Belgian designer Oblin in 1954.
It's been restored to the exact configuration of its appearance in the 1955 Brussels Motor Show. With matt charcoal body and central red stripe, this car will attract attention from collectors around the world when it takes centre stage in Paris next year at Artcurial Motorcars' annual Retromobile sale.
On leaving the factory in 1953, chassis 0300M was bodied by Vignale and sold to its first owner, Jacques Herzet from Belgium, in May 1953. Having owned the car for just two months, Herzet entered the Coupes de Spa-Francorchamps and finished second overall. Other impressive results followed on: with co-driver Lucien Bianchi, the car finished third overall and first in class in the XVI Rallye des Alpes in July and third overall and first in class in the gruelling Liege-Rome-Liege rally in August.
In 1966 the car was sold by its second owner to a dealer in the US, and had four US owners before being bought by Dr Robert Selz from Florida in 1977. He kept the Ferrari for 35 years, driving it regularly and taking part in numerous concours events. He was passionate in his belief that rare and historic cars should be used and seen, and in 2005 he took 0300M back to Italy to take part in the Mille Miglia.
The current vendor bought this wonderful 166MM last year and commissioned Automotive Restoration Inc. to carry out a complete period-correct restoration, costing $400,000. It is now presented exactly as it would have appeared in the 1955 Brussels Motor Show and has been restored with further competitive use in mind.
Every Ferrari 166MM is special, but this example must top the list, with an impressive period racing history, its original, unique body and presented in totally restored condition, ready to be driven.
More at www.artcurial.com
Comments
Author

Keith Adams
Latest