£10,000
1976 Cadillac Fleetwood Sixty Special BRougham.
Liverpool, Merseyside.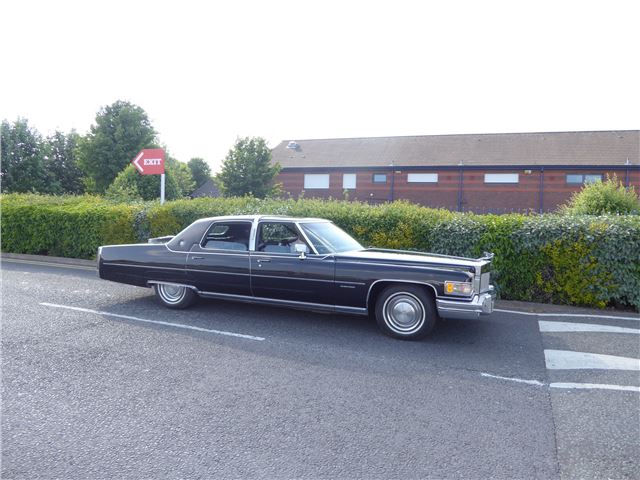 1976 Cadillac Fleetwood Sixty Special Brougham. (A private sale - sold without Warranty or Guarantee). The 1976 sales brochure states that Cadillac is the 'Standard of the World' with the Fleetwood Sixty Special Brougham, being the top of the Cadillac luxury wide range of Sedans, for the discerning Beverley Hills V.I.P. owners only; this is considered by many as the Rolls Royce of American automobiles. First registered by the 'Hillcrest Motor Company' main Cadillac Dealership in Beverley Hills, this beautiful automobile was imported by me from California in Nov 2005, mileage 50.545. In 2017 this automobile, was upgraded by D.V.L.A. to 'Historic Class' and is confirmed in the Registration Document. It is without doubt an extremely rare automobile, is very presentable and ready for the V.I.P market immediately. The car has undergone some 'touch-up' painting, and has body 'flaws' commensurate with its life of 42 years (30 years of which was spent in sunny California). This extremely rare American Classic automobile is without exaggeration, in outstanding condition, and believed to be un-restored according to it's previous American owner. However, in spite of its fantastic pedigree and condition, and several shortcomings, it has to be classed as an 'imperfect' automobile; for those wishing to purchase a 'perfect' automobile you will need to shop elsewhere with a budget of £20.000. You are invited to arrange your own independent vehicle inspection in consultation with this Seller; I'm confident however that any self-respecting Appraiser would rate this automobile as a completely 99.5% rust free vehicle, especially in relation to chassis and under-body. See this beautiful automobile on YOU TUBE: Click on the links. (Or 'cut & paste') 1) https://youtu.be/wKFJUG1U0ZU 2) https://youtu.be/QRIU9nYdNx8 3) https://youtu.be/b_RX1gQsvHw 4) https://youtu.be/iII-k2f6DwM Further Details/Specification: California shipping/Import document, and original U.S. registration plates available. Age related (P) plate. D.V.L.A. 'Historic Vehicle' Class - Nil Tax. All M.O.Ts (2006 - 2019) showing consecutive mileage. All original Cadillac Fleetwood Workshop manuals, and Hillcrest Cadillac Dealership handbook. Invoices to support service history. INTERIOR: 4 personal Opera spot lights - V.I.P foot rests, excellent head lining, excellent interior leather seats - all lights, and seat belts fully operational - electric front bench seats - carpets, excellent, except driver's compartment needs replacement, Electric tinted windows - Cadillac Fleetwood radio & 8 track music player. (electrics o.k. but needs antenna). Sun Roof (Mirrored) non-opening, but has interior close shutter. A/C: gas needs re-charging & motor service or motor replacement. EXTERIOR: All Steel body. Road lights, indicators, Opera lights, horn, fully operable, - leather top, excellent, new full exhaust system fitted 2015 - new Whitewall tyres 235/75/15 x 4 wheel tracking aligned 2013. front flexi break hoses fitted 2018. Size: 20. feet & 4 feet - Water Pump, & gaskets, fitted, & Service 2016. Original Cadillac Fleetwood jack. Settlement: By electronic bank transfer. (NO PAYPAL).